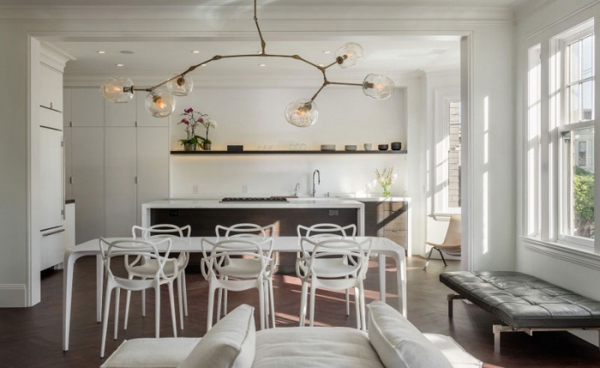 You too can live in Paris, just take it from Sutro Architects and this lovely 'Paris' apartment that is actually located in California. Sutro does have a point though, this apartment screams Parisian style with its very neat and clean interior; it is ideal for the minimalist who also appreciates chic and stunning décor. It is definitely one of those homes you don't necessarily want to touch anything out of fear of misplacing it, but still somehow manages to be cozy enough that you feel welcome.
The stark white décor really adds to the Parisian style theme in this apartment. It is such a crisp and refreshing shade of white—even the sofas are the same perfect shade. The contrast of the dark wood floors and accents are spectacular next to the white interior. It really distinguishes itself from the walls and ceiling, and creates excellent dimension in the home; especially the chevron design that exists in the wood on the floors—absolutely beautiful.
The few accents of color are so welcomed, we feel this too gives the Parisian style of the home such spark. The one red chair that sits alone in the corner is both adorable and brilliant, while the black ottoman both blends perfectly with the dark flooring but still is contrasted well with the rest of the white interior. We also really appreciate the use of the bookcases; by creating the rainbow (or otherwise arranged) books, they're like an entire piece of décor themselves. Did we forget to mention the actual décor? The art that is used in this home is absolutely stunning and brings such sophistication and class to the home.
We also adore the use of plant life in the home. If you are looking to do a Parisian style look in your home own, you cannot forget the greenery. We especially love that branch chandelier above the dining table.