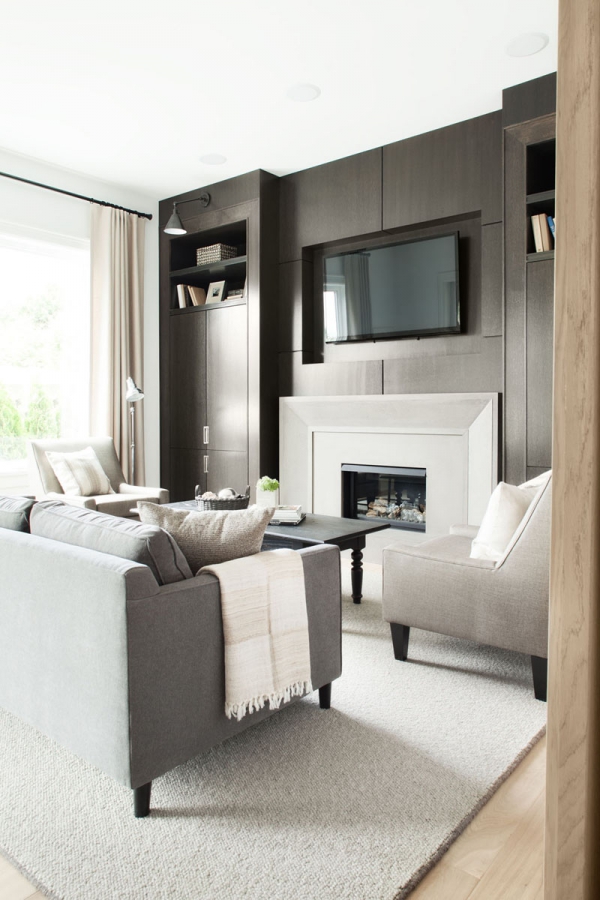 This take on the modern farmhouse is utterly perfect and stunning. Kelly Deck has brought to life the new frontier in this West Vancouver home. Such subtle hints of old west and farm life are trickled throughout the home, the masculine design, and high contrast colors make for a wonderfully sophisticated homestead.
The natural lighting in this modern farmhouse becomes perfectly balanced by interior's color scheme. Light bounces off the cream hues and is then absorbed by the charcoal accents. The continuity of these colors is carried out throughout the home so well, it is beyond organized the design and decor. The patterns used in the furnishings really add dimension to the color scheme here, freshening up each room you walk into.
We love the wooden additions through the home. It really finalizes the touch of modern farmhouse in the interior. The paneled look of the cabinets and tree stumps used as side tables are adorably rustic and effectual.
Let's not forget how spacious this home is. Each room is functional and roomy, offering up total comfort. A favorite has got to be the bathroom, it's not only totally gorgeous, but the placement of the tub smack dab in the middle somehow created a ton a space (something we maybe wouldn't have expected). This must be the bathroom of modern farmhouse dreams.