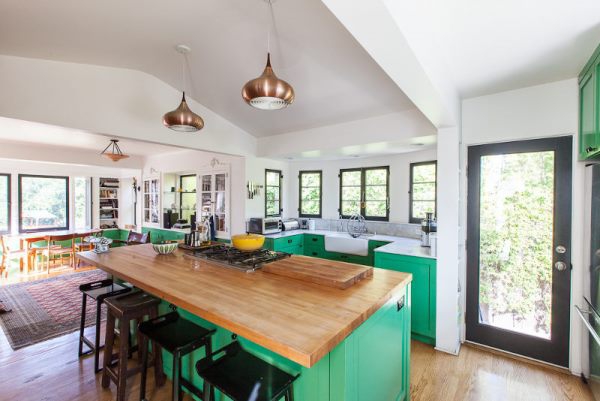 We love a good renovation project, and especially when a couple different elements are used in the inspiration for the new design. This renovation by Bestor Architects is an excellent example of a fun, contemporary, and somewhat rustic revamp that looks very stylish and oh so comfy.
Our favorite part, as we can only assume is most other people's favorite, is the bright green cabinets. Pops of color like this can add such a wonderfully funky factor to the design, and this shade in particular looks awesome. What can be dangerous with using a color as bright as this is that it is too loud or looks overused, but Bestor did an excellent job with this, and it accents the kitchen perfectly.
We love the furnishings in this apartment as well. With the rustic meets retro look, it all contrasts really well, even when in the same room as the green cabinets. The use of wood on the countertops, furniture, and wall in the dining area really balances out the green.
Looking at this renovation you'd think this is probably something that could easily be done on your own. This is definitely a look we'd be interested in trying in our homes.