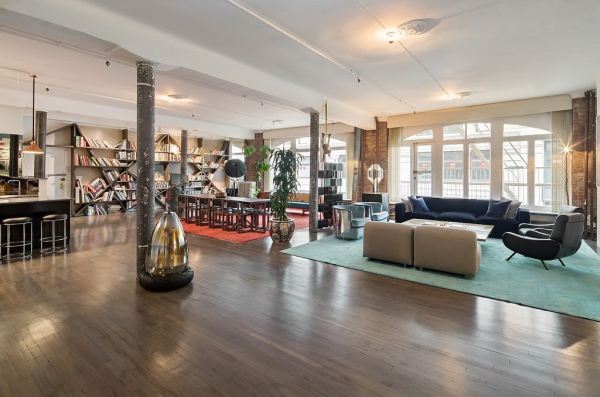 Do you desire to live in an area that fits your creative interests? Would you love to have your home reflect your creative side as well? This is for all the artists out there! This artistic loft is located in the heart of the art district of SoHo, New York. Listed by The Leonard Steinberg LuxuryLoft Team, this home provides over 2,500 square feet of pure sophistication! Because of its immaculate demeanor, it has won its own place in major well-known magazines such as Vogue, among many others.
This stunning artistic loft features one bedroom along with two bathrooms and two additional rooms that could function as home offices. Both bachelors and bachelorettes alike would be thrilled to have a place like this! We can't forget to mention the spacious kitchen, living and dining room areas, which greet us with mosaic-tiled floors, contemporary chrome chairs, a great selection of art, and a beautifully designed bookcase to house an even greater selection of books! The colors that are chosen blend very well with the open space concept that allows the rooms to only be separated by exposed stone beams. Flowing into the bedroom, we first spot the exposed brick wall that adds great texture to the atmosphere. The use of yellow hues encourages uplifting thoughts and sprawling energy upon waking up to start the day. Last but not least, the bathroom is clad in nothing but marble and glass. What a luxurious way to refresh yourself!
Being smack dab in the middle of Soho with a striking artistic loft such as this one can complete your experience of an artist's life. It doesn't hurt to have inspiration all around you!