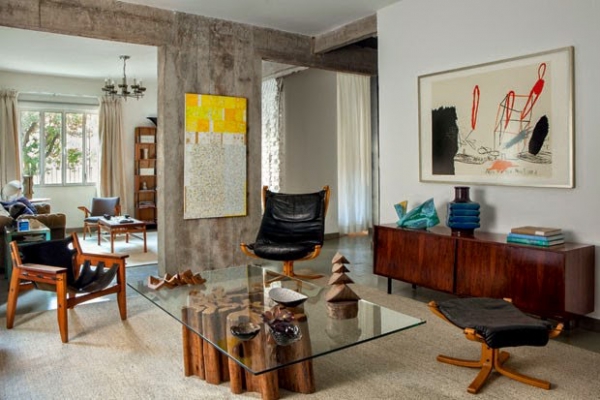 It wouldn't hurt to stay in Brazil a little longer, would it? Today's feature isn't one for the contemporary lovers. We're all about the cultured eclectic styles this week! Once again, located in Sao Paulo is a home that is the epitome of exquisite artistic interior design. This home belongs to Sergio Zorbaran, a contributor of Casa Vogue Brazil in which he is also featured. He loved the Brazilian designers of mid-century times and made sure to include this theme throughout his home. The building in which his apartment resides in is over 50 years old and also has an influence in his vintage decor style as well.
Ranging at about 1,300 square feet, the artistic interior design of Zorbaran's home leaves no stone unturned. By this, we mean that there's not a corner in this home that is anywhere close to boring! From the different wooden elements in the living room, to the captivating wall art decor and other clever features, we have an inside look into the mental creative process of Zorbaran himself.
We have been spoiling you with all these amazing designs in the tropics and most exotic places in the world. Aren't you glad you have us to travel the world with?