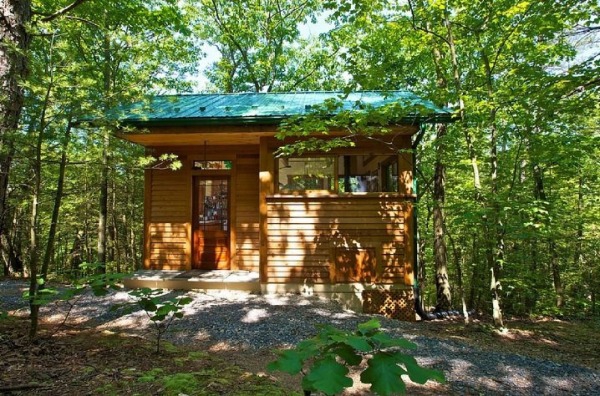 Encouraging visitors to draw back from the grind and stress of everyday life, this lovely mountain cabin employs the best of nature and human comforts to offer a well-deserved pause. A cozy sanctuary located in Northumberland in the Allegheny Mountains, it was built by hand by its owner in 2009 using ten different types of wood, local stone and custom metalwork. Perched atop a picturesque cliff overlooking a mountain stream 80 feet below, this tiny wooden retreat breathes in the warm embrace of the mountain forests and its sensory delights.
The cabin accommodates living and sleeping areas, while a separate bath house adjacent to it houses a sauna, shower and composting toilet. Running on clean and alternative energy to minimize impact on the forest environment, this tiny wooden retreat houses a fully equipped kitchen, loft bed and an outdoor deck for barbeques and relaxation. Twelve volt batteries supply power to run the inbuilt LED lighting, stereo, ceiling fan as well as for laptop and phone charging. The refrigerator, cook stove, wall heater, grill and additional lighting run on propane. The cabin and bath house are both gravity-fed with well water, ensuring the experience is green and clean- inside out.
Ideal for couples or the solitary traveler looking to dive into nature, this tiny wooden retreat packs quite an experience with its extensive fittings and features, and the stunning beauty of the forests that surround it. Smartly crafted and sensitively designed, it is an ideal getaway for anyone looking to converse in silence- inside and outside.
If you are interested to rent the cabin, please visit HomeAway/Michael Kryzytski