Located in Streatham SW16 in Lambeth, UK, this Edwardian house, is bright and beautiful. Wonderful vintage touches, white decor, and a plethora of gorgeous windows, give this home its  whimsical romantic charm.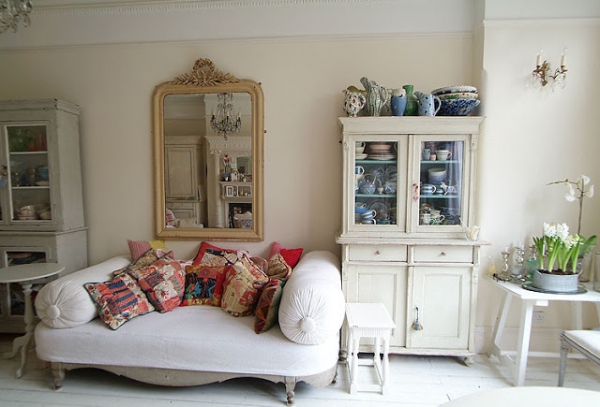 We love the vintage white love seat filled with brightly colored pillows, it is beautifully bright and cozy. The ceilings and floors are in beautiful opposition: the ceiling is detailed and resplendent, and the painted hardwoods are simple and a bit distressed. The gold mirror and chandelier add a fabulous touch of glamour.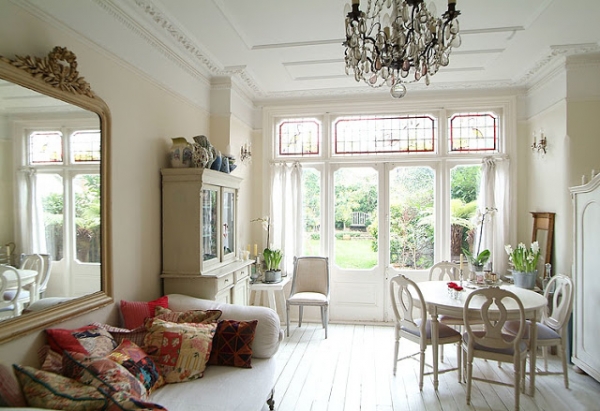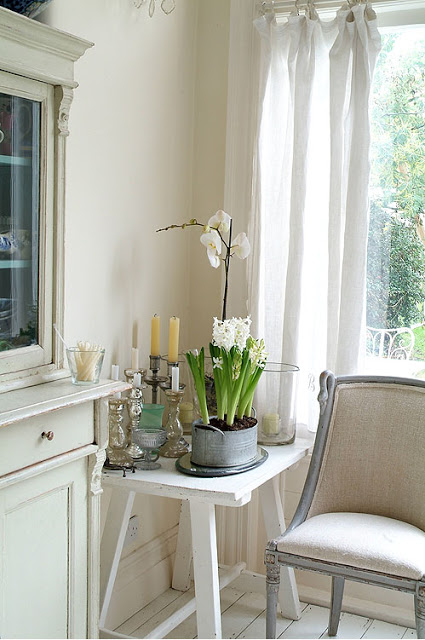 The seating area, by the china cabinet, is absolutely adorable. A wonderful light blue and light tan chair sits by the stunning doors. A white table filled with plants, candles, and flowers, decorates the space, adding color and liveliness.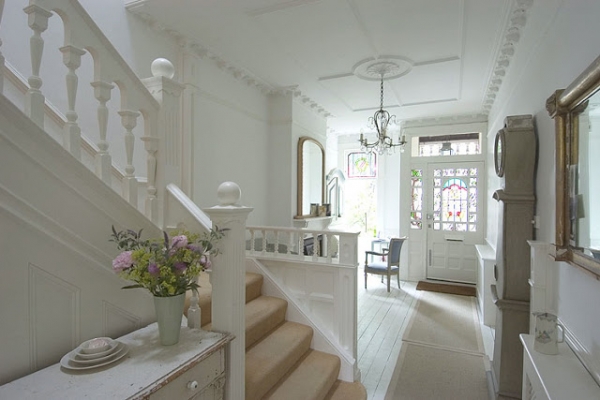 We love the browns and golds in the entrance way of this Edwardian house. They add a lovely warmth and glamorous charm. The stained glass window and the ceiling detail are absolutely fabulous.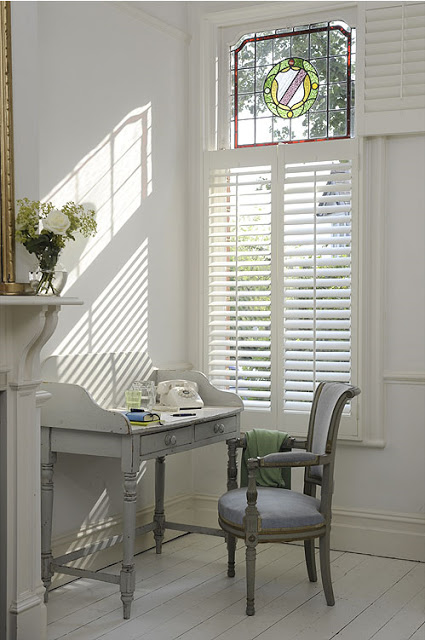 The office area has a shabby chic desk and a beautiful vintage chair. The white rotary phone is a wonderful touch.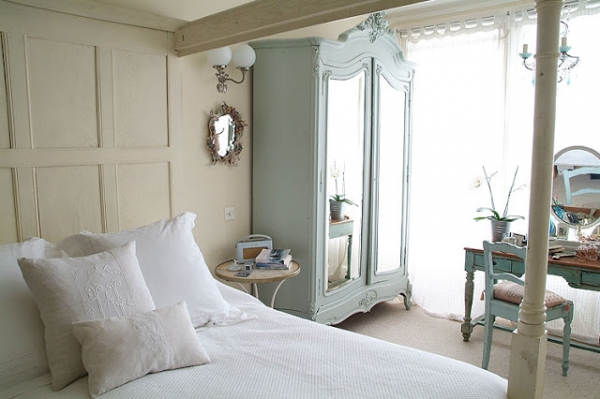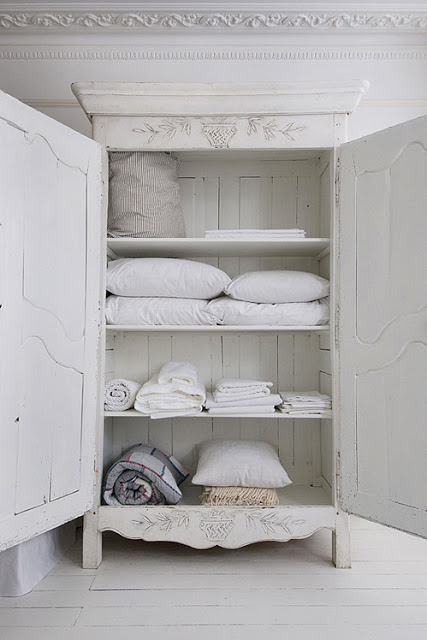 In the bedroom, delightful variations of turquoise fill the space. A white bed, cream walls, flower accents, and tan carpet, create an enchanting and cozy room.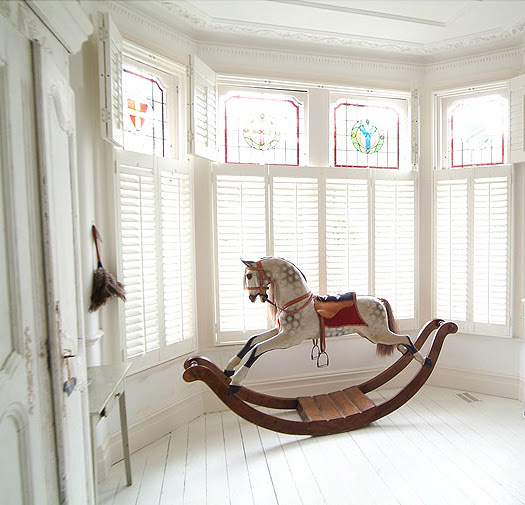 The kids' room is positively darling in this Edwardian house. The stained glass windows, the ceiling detail, and the stunning shutters, fashion a radiant design.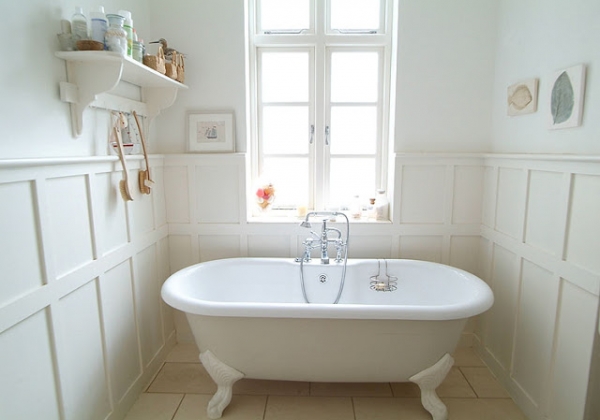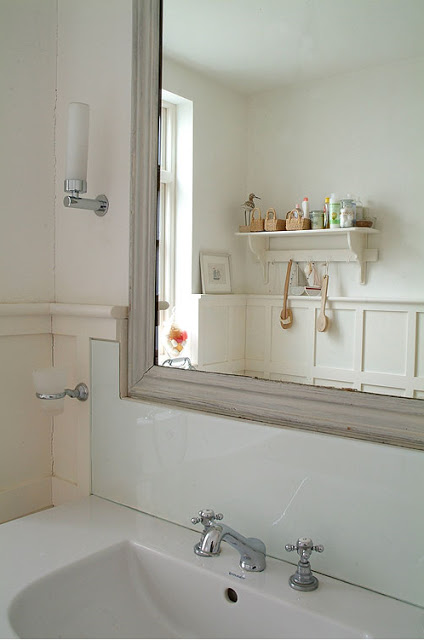 Images found on: Pinterest
We love the relationship between the color of the floor and the color of the walls in the bathroom. The claw foot tub is perfectly placed under the window, creating a cozy space to relax, and those fixtures are gorgeous.
It's not surprising that this Edwardian house is in the portfolio of Light locations, a film and television location scouting company. With its bright atmosphere, Edwardian detail, and fabulous decor, it is a magnificent and one of a kind space.