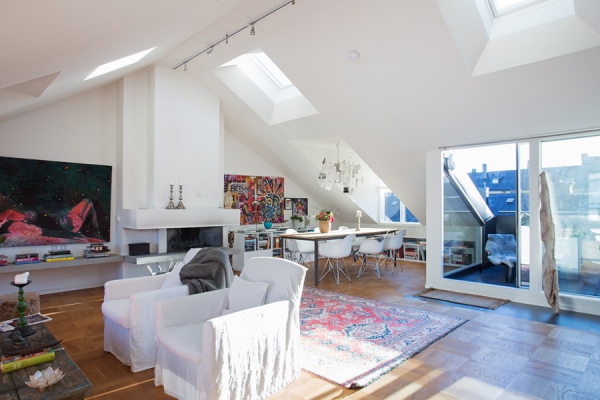 There are a number of ways one can attempt a more contemporary design in their home decor. This modern loft sets itself apart from the many with its gratuitous use of bright patterns, varying textures (even furs), and numerous pieces of abstract art. When you take away the brightness and loudness of everything, you actually have a very simple and quietly designed home.
We do like that while there are plenty of flamboyant aspects to the design of this modern loft, there are plenty of muted supplementary pieces that manage to make everything blend together rather than contrast against one another. The use of wood in the tables, cabinets, and flooring tone everything down, making it all feel much more comfy. The white walls and accenting black here and there also has this effect.
This modern loft feels very much like one that would belong to a world traveler—there seems to be a rather worldly vibe in a number of the decorations. While it all clearly has come from a different place, everything really does seem to fit right in together. This is a home perfect for the contemporary person who has a lot of different tastes (in good things!).
Тext is copyright to ©Adorable Home – interior design and decorating ideas