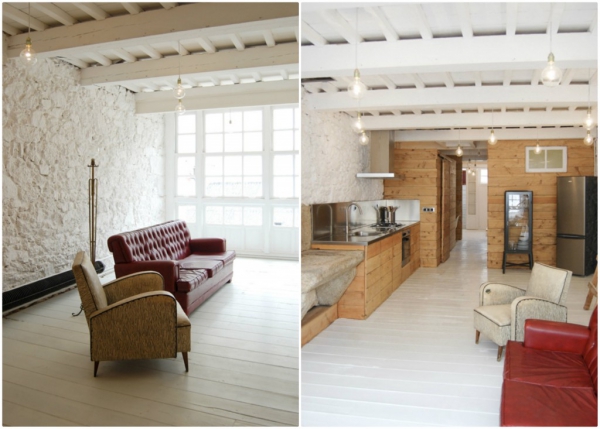 When Spanish architectural company Sinaldaba were asked to renovate this loft in the center of A Coruña they came up with an idea that totally transformed the inside of this top floor nineteenth century Gothic styled building. With careful consideration and an attention to detail they came up with this wood loft that is in a class of its own. The wood loft transformation is even more surprising since the budget was quite small and the original loft space was in bad condition.
Internally the wood loft used to long and narrow, since being renovated only the main staircase remains untouched and the new configuration of the loft is much more spacious and inviting. White painted wooden floors reflect the light from multiple windows, while honey colored wooden walls give the feeling of nature being brought inside. A kitchen, toilet, study, cabinet and study are just off the main living area.
Furnished fairly simply the wood loft is now a wonderful, light and bright home with a welcoming feel. Original features of the building can still be seen in the walls and ceilings which are highlighted by the new layout. This wood loft has received the ultimate in makeovers and is now a sight to behold.
Photos: Abraham Viqueira
Тext is copyright to ©Adorable Home – interior design and decorating ideas