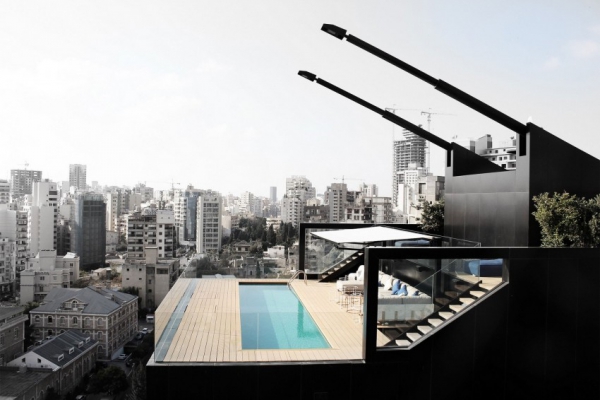 Once inside this amazing three-story apartment in Lebanon by Bernard Khoury/DW5 you can relax in style and also indulge in the awesome views across Beirut. It must feel similar to being on top of the city standing inside this amazing three-story apartment. The lower floor is where the grand reception area, dining room, master bedroom suite and kitchen are. But the beauty lies in the full height mezzanine area, which houses a fantastic library and is accessed by a steel bridge that spans the whole area and provides access to a further 2 bedrooms.
The top floor of this amazing three-storey apartment is where you can get the best views – from the roof terrace, complete with private pool, guest accommodation and staff quarters. Elegance, luxury and attention to detail are just some of the words I would use to describe this marvelous home, where no expense has been spared to provide the owners with the ultimate living experience.
Much of the furniture is wooden, which sits well against the huge expanse of glass that is the front of the amazing three-story apartment. Comfortable loungers in the living area have dual purposes and are the perfect place to curl up with a good book for the afternoon or you can head up to the top floor for a swim in the Lebanese sunshine to make your day complete.