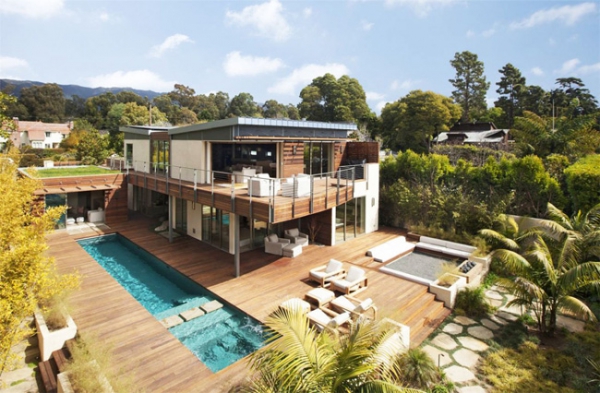 This beautiful architect built home is situated in Montecito, an affluent area close to Santa Barbara, California and is known as the 'Butterfly Beach' house. Designed by Maienza-Wilson Interior Design and Architecture this amazing home is stunningly beautiful and has some extravagant features that you will adore.
The house is beautifully furnished and the attention to details shown by the architects really shines through. Everywhere you look there are natural materials used in the build and to highlight certain areas of the house. This amazing home has 2 storeys and plenty of space for a growing family to enjoy. There is even a pool in the garden which has its own small pool house and a large expanse of decking for outdoor living.
Light and natural colors have been used throughout the house giving it an airy feeling and all of the furniture is supremely comfortable. In various parts of this amazing house you can find wonderful sculptural pieces that add to the general ambience and bring extra class to this stunning home. On the ground floor a modern kitchen takes pride of place in the large open planned living area, which also serves as the perfect place to entertain guests.
Тext is copyright to ©Adorable Home – interior design and decorating ideas