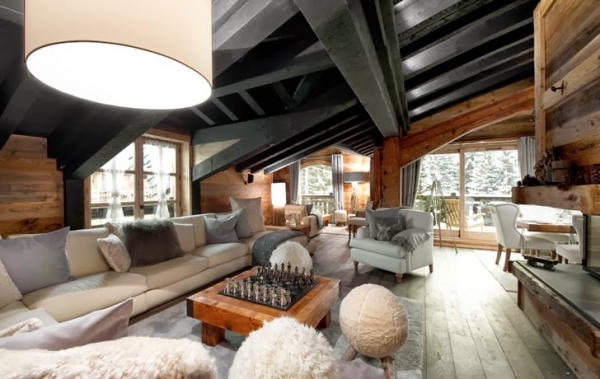 Big on design, ideas and facilities, the Petit Chalet is anything but small! This stunning attic home is nestled in the spectacular French ski-resort of Courchevel. Boasting all the indulgences and comforts that make winter an utter delight, this amazing chalet design promises to unravel and tantalize the senses.
This luxurious ski resort is a perfect winter home in the Alps for you and your family. It offers not just the usual accommodation and warmth, but also the indulgence of a fully equipped spa with an indoor pool, Jacuzzi, oriental hamam, gym and massage room.
A sensual romance with wood pervades the interiors of this amazing chalet design with all the furniture, flooring and roofing, as well as many decor elements crafted in it. This lends an undeniable coziness to every room and space, enhancing the bold invitation set out by well-crafted interiors.
With the wooden surfaces lending the dominant colors and textures, the furnishings explore a subtle spectrum of whites and greys to create some smart arrangements. The design indulges in a variety of plush fabrics and materials within its subtle palette to accentuate the warmth and comfort of every social and private area. Gentle, ambient lighting caps the design to create a luxurious haven providing much needed respite from the weather outdoors.
This amazing chalet design is sure to keep you and your family inspired, invigorated and occupied with its stunning decor and elaborate spaces.  Drop by when you next visit this part of the globe!