This fascinating restored mill is located in France, in the region of Alsace, on the border of the Vosges Natural Park. Revamped and splendidly designed by Annie and Francois, this country guest house combines modern and country decor.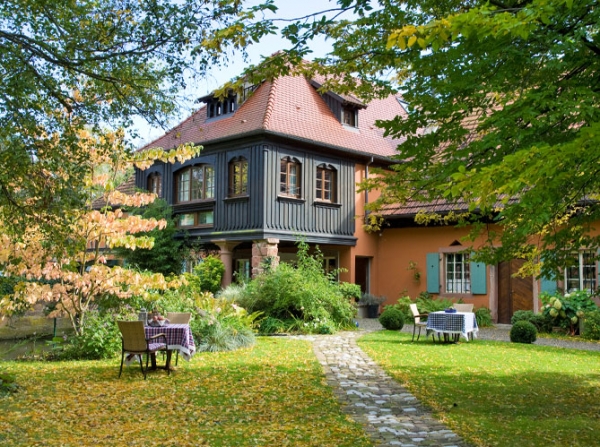 The exterior of this country guest house has vertical, green wood siding, and a beautiful red-orange roof. The covered patio has a table covered with a blue and white checkered tablecloth, and two chairs. A bountiful garden and large trees surround the exterior, almost covering the front of this country home. A serene body of water and two tables, each with a set of chairs, provide plenty of outdoor eating and relaxing space.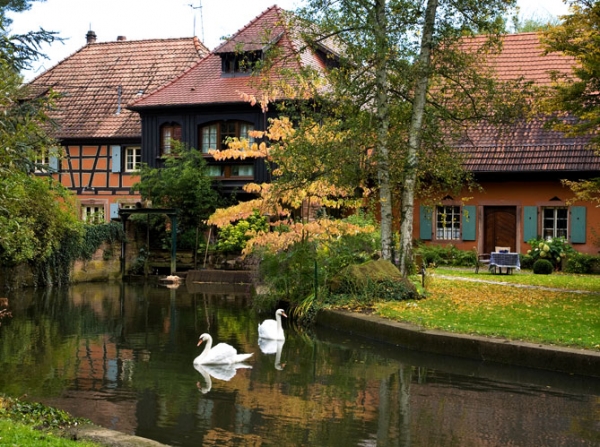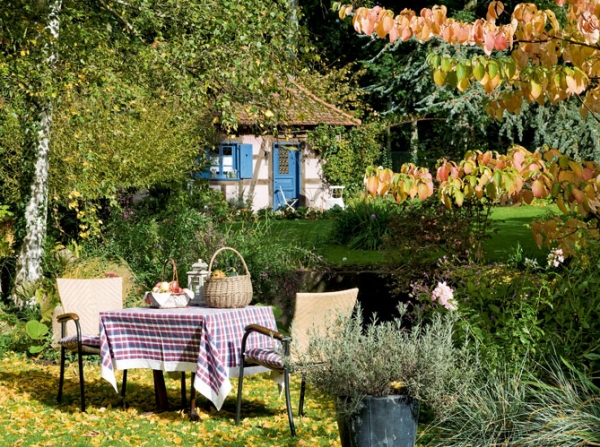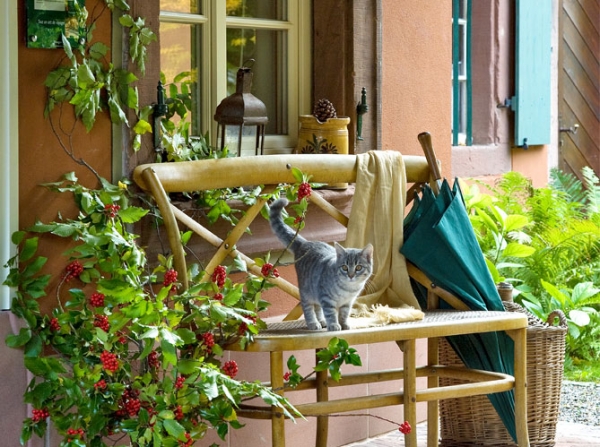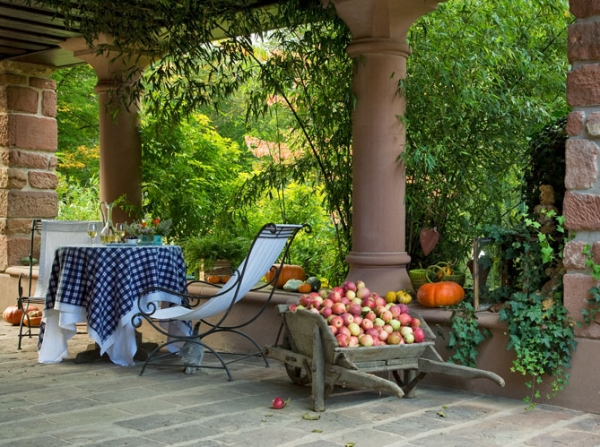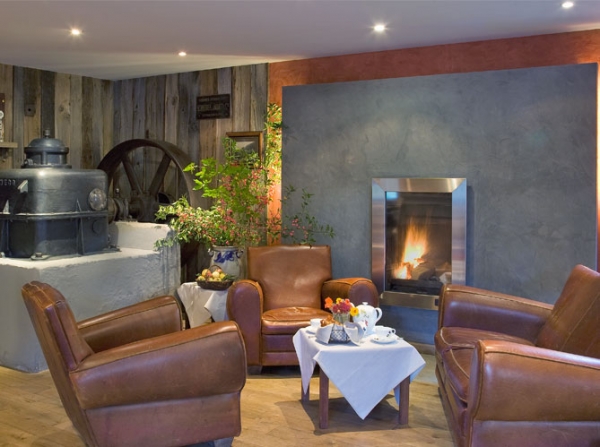 The living room has a modern, brown and gray, enclosed fireplace. Next to the fireplace, brown leather chairs are placed in a circular position, with a small table in the middle. The fantastic mill pieces are kept as part of the decor, personifying the home's former identity. Smooth wood floors and ruggedly natural wood panels bring the rustic and the refined together.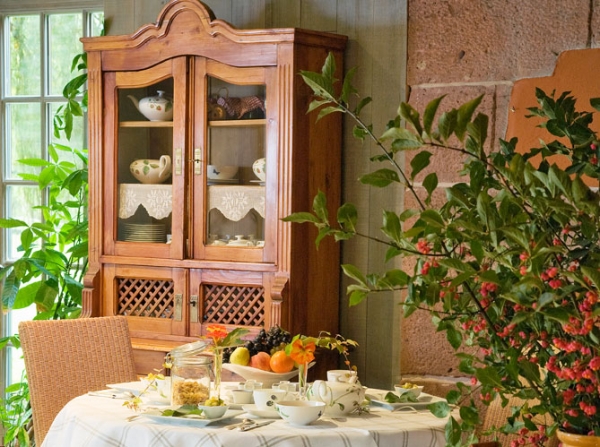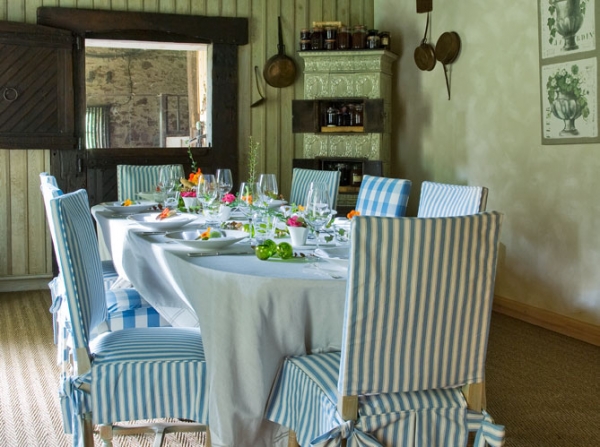 The dining room is filled with greens and blues. The green wallpaper looks great with the fantastic dark wood opening and the cookware on the wall. The table is in the shape of a long oval, and it is covered by a white tablecloth. Covered blue and white striped chairs surround most of the table, with the exception of the covered blue and white checkered chairs. This switch in pattern choice adds more interest to this charming table.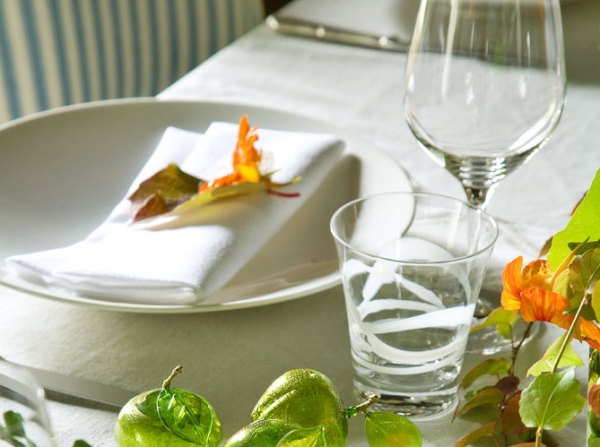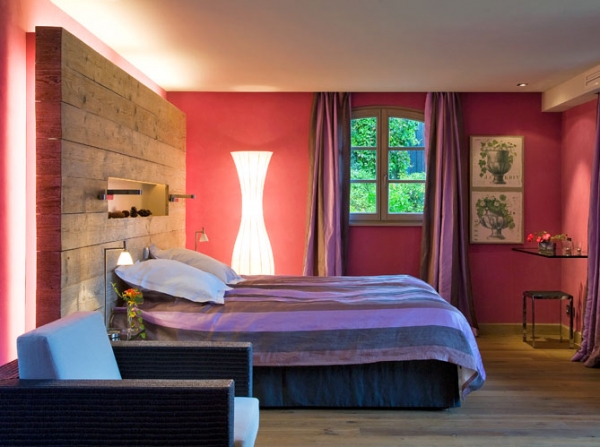 While the dining room is all country, the bedroom pulls from modern influences. Red, purple, and natural wood come together to create a striking space. The beautiful wood behind the bed is backlit to match the curvaceous light on the adjacent wall. The room has a fantastic black and white clean-lined chair and a simple but effective artwork next to the window.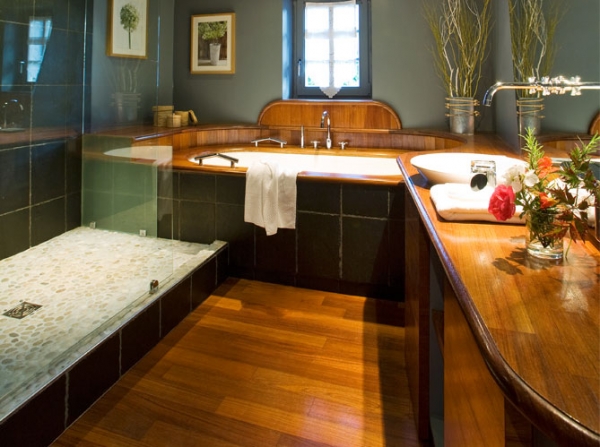 Images found here
The bathroom is lovely, with its wood floors and countertops. The glass shower has light colored river rock flooring, and the bathtub, surrounded by wood, is wonderfully large.
The fusion of modern and country decor in this country guest house fantastically >provides country comfort and urban sleekness, all in one space.