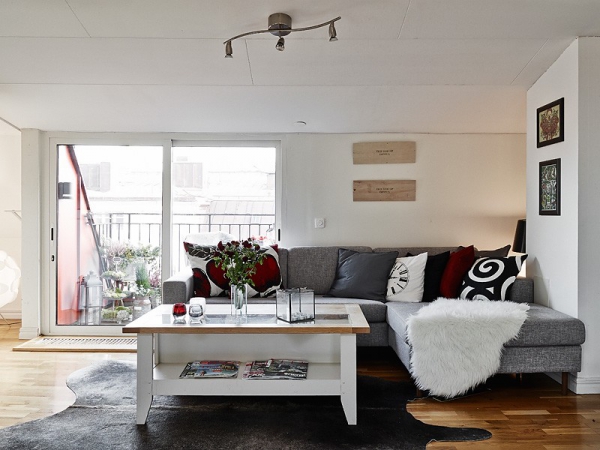 Stockholm is seemingly packed full with stunning homes like this gorgeous apartment. Its contemporary design and ease of its decor is super uplifting and very chic. While the home is nearly all white with the perfectly placed black accents, the darker wood is the true supplementary element in the home, giving a very nice contrast to the white.
The eclectic decor pieces, art, and colorful throw pillows add a fun and modern touch to this already gorgeous apartment. They could have stuck with a more monochrome design, but the deep red and diverse furnishings were an excellent decision.
We really like the built in structures throughout the home. This just makes it even easier to put up your favorite books and other trinkets while maintaining organization and utilizing storage. Treating them like areas to showcase your best decor is always a good idea though.
The brick and wooden beams give this gorgeous apartment kind of a country feel amongst the obvious contemporary design. Mixing underlying themes to decor is a favorite of ours, and we especially love when it's executed this well. Nothing overpowers the other throughout the home, keeping things very balanced.
Тext is copyright to ©Adorable Home – interior design and decorating ideas