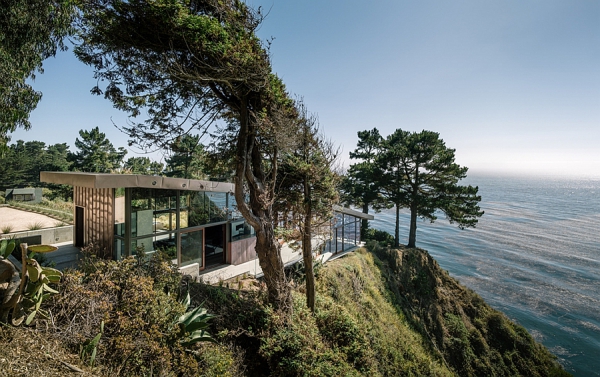 Today we are headed to a part of the United States where the sun always shines! Off the southern coast of California is a spectacular house that really gives a remarkable view of the Pacific Ocean right outside its windows. In this particular part of California, called Big Sur, there are banana slugs in abundance. The banana slug is indigenous to California and is known for their yellow color and bodies that move in waves due to their muscle make-up. You're probably wondering right now what the banana slug has to do with this breath-taking house. Well, the structure of this house was inspired by the banana slug's natural movement, thanks to the team at Fougeron Architecture!
This spectacular house, also known as the Buck Creek House, includes multiple bedrooms, a spacious living room and an open kitchen and dining room area. We can also see that the interior of this home features the main foundations of dark polished wood, marble floors, and large windows that allow views of the ocean from anywhere you choose to be. The living room's color scheme features a posh pop of royal purple against the contrast of neutral grays. Flowing into the dining room, we are welcomed with a modern dining experience that comes with a gorgeous view of the deck and mountainous terrain. Who wouldn't want to enjoy eating with loved ones while being mesmerized by the ocean tides? The bedroom provides a beautiful sunrise to wake up to, while the library includes various light pastel colors and patterns within its bookshelf to accompany the ultramodern chairs and fireplace in front of it.
It's hard to resist a spectacular house such as this one! With an undeniably striking contemporary style and a view of the vast world beyond its borders, you'll never want to live in the city!
Photos: Joe Fletcher Photography