Is there any better feeling in the world than having a long, rewarding (albeit cold) day at the slopes, and coming home to your own little luxury chalet? The Black Pearl Chalet, designed and built by famed architect Philippe Capezzone, is a gorgeous little mini-ski resort located between the towns of Val d'Isere and La Daille, in the French Alps – the perfect locale for any ski-lover. The chalet is outfitted with genuine Savoyard stone and lovely wooden design, and at 3,300 square feet and three stories – this space is certainly spacious enough.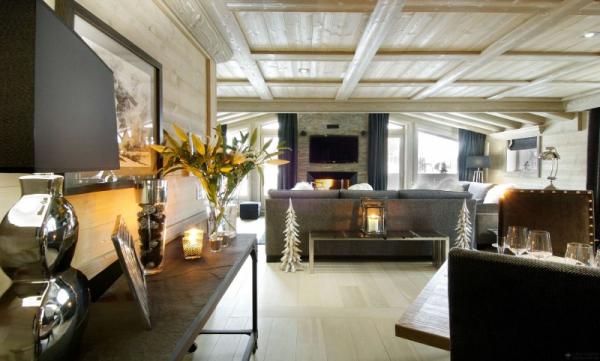 The monochromatic color scheme is black, white, and tan – further lending to the feeling of sophistication and class. The living area is, of course, outfitted with a lovely fireplace and cozy wraparound couch (ideal for all those hot chocolate nights after sailing down snowy slopes), along with plenty of attractive touches to add pops of color and light.
Speaking of light – this particular chalet doesn't feel darkened or isolated, as a cabin might. Instead, this space benefits from its wide array of huge windows that let in plenty of natural light, further adding to the home's spaciousness. One certainly wouldn't feel closed off in this kind of space.
The kitchen is expansive, and equipped with the kind of gleaming, silver appliances that are to be expected in such a luxurious space. Both the bedrooms and bathrooms are sparsely designed, with simple yet classic bedspreads and wall hangings – all of it chic, all of it effortless. The dining area is a vision, with its long, shining black table and glamorous centerpieces. One could imagine dining and laughing for hours with friends or family at this elegant table – or anywhere else in this stylish, luxury chalet.