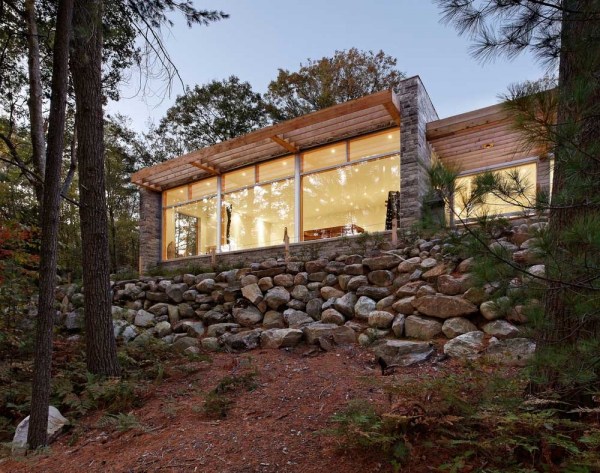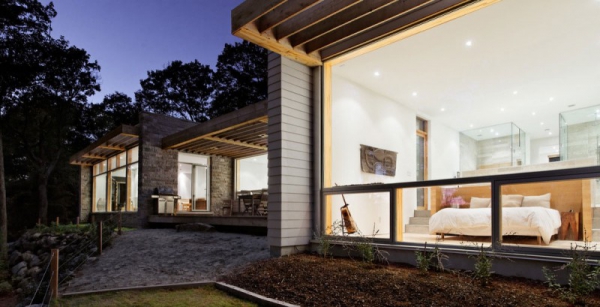 A haven from noisy city life, the Carling residence unravels before the magnificence and majesty of nature. Located on the forested slopes of Georgian Bay, Canada and designed by TACT, its modern interiors and architecture enthuse this home with calm and serenity.
Humbly scaled, the stone and wood facades organically rise out of the land to encapsulate three distinct volumes. Connected by a fluid layout and a diaphanous corridor, these spaces are organized in a clean and open fashion. Generous glazing, delicately framed in timber, further affords liberal vistas and sunshine.
Functional areas such as the kitchen are pushed to the back, giving the seating areas best views in the house. The bedroom and open bath are integrated into a singular volume that, like the other areas in the house, is oriented towards the forests before it. Wooden pergolas filter natural light while creating a semi-open spill-out sitting area.
The minimal tone of this design provides a welcome respite from urban clutter. The modern interiors and furnishings are therefore natural and modest. Floating on a bare concrete floor, the wooden dining table is unassuming and welcoming, while the linen sofa is perfect for curling up in silence. The open bath takes full advantage of the spectacular views, letting nature extend into every activity in this house.
The Carling residence is an unpretentious intervention in a picturesque landscape. Its modern interiors and understated elegance quietly create a place to unwind… a home to breathe free.
Photography: Terence Tourangeau