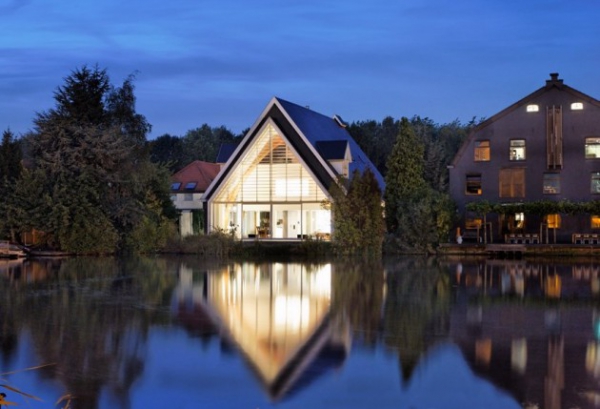 At first glimpse of the unique house, you'd maybe think you were looking at a church—well, you'd be basically right. Dating back to the 1930's, this unique house was once a church that operated until the 1960's. It was only up until recently this beautiful home was completely covered in aluminum, but now look at it!
You'll notice that a good deal of the original architecture still stands. Ruud Visser Architects did an excellent job of taking a 12-roomed church and turning it into a home with a more or less normal amount of bedrooms. Aside from the transformation of the functionality of this unique home, the glass facade is new, providing a beautiful view both into some of the home, as well as out of it.
The side windows and the room overlooking the living area clearly are from the original design; you could maybe imagine that that was the room that the choir used to practice in, or something along those lines. We can all certainly agree what has been done with the space is lovely. We're especially big fans of the bathroom; the use of grays and what appears to be stone is beautiful, and an excellent addition to the overall design.
Photos: René de Wit