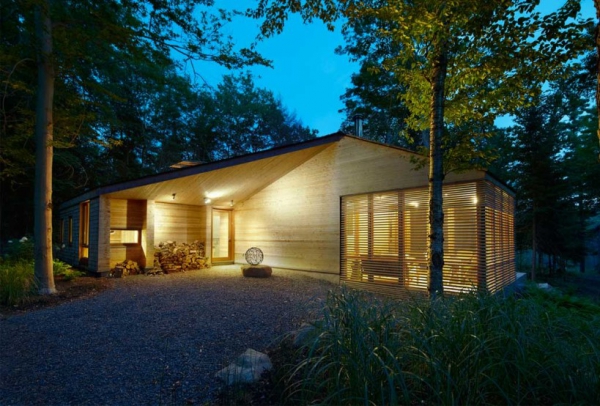 We think that it's every family's secret dream to have a little more privacy with their life. Yes, it's important to mingle with neighbors and have some interaction but there is a certain beauty in the peace of raising your children without all the interference of cell phones, computers, and any other technological distractions that can hinder quality family time. This modern family house delivers on making sure that you can do just that. Nicknamed the "Stealth Cabin", this contemporary cabin is located in Bracebridge, Ontario, Canada. It was designed by the Superkul architecture company for a client that wanted something a little more updated from the traditional log cabin styles.
The most magnificent thing about this modern family house is that it was made completely out of cedar wood! Given its foundation and structure, it is definitely a home that camouflages itself within nature. Its nickname pretty much gives off the fact that this factor was pretty intentional! Taking a look inside the home, we can see that the color theme and décor chosen goes perfectly with the environment that it resides in. A color scheme that is reminiscent of lush foliage, vibrant flowers, and even shapes of various nature finds blend seamlessly with the cedar wood décor. It is almost as if nature continues to flourish past the physical confines of the windows!
A modern family house such as this one is one to be enjoyed throughout the year, no matter what season it may be. There is something quite magical about having a home that can ground your mind, body and spirit. Who could possibly turn down an experience such as this one?