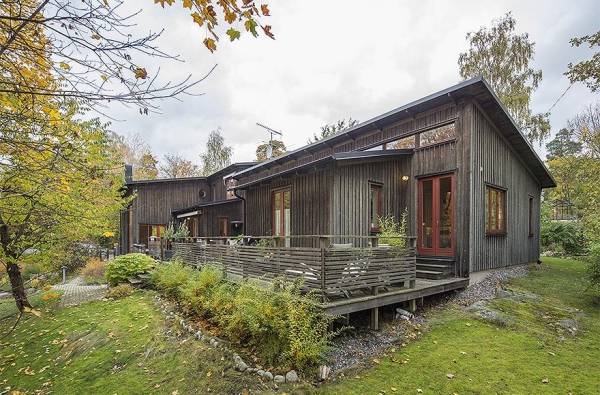 Isn't it fun to see the exterior of a home, maybe expecting something similar as you enter it, only to find yourself totally surprised? No? Maybe that's just us. This modern country home was once an old village farm, clearly transformed into the beauty that stands before you. Located in the countryside of Sweden, this is the perfect summer holiday home for the family.
The natural light that pours into the spacious modern country home really brightens up the already bright lively interior, while the gratuitous ceiling lights take care of the rest. The neutrals and creams that comprise the palette of the home are absolutely lovely, while the accents of wood in the ceiling, cabinets, and furniture contrast perfectly. The splashes of color in accenting pillows and art throughout the home are an excellent touch. Speaking of touches, who loves that lamp in the dining area? It's the modern pieces like this that really give this home a little more edge.
It is appreciated that all of the bedrooms do have their own character, but really the overall design of the home is maintained. This gives a very cozy but still put together look in the end.
Тext is copyright to ©Adorable Home – interior design and decorating ideas