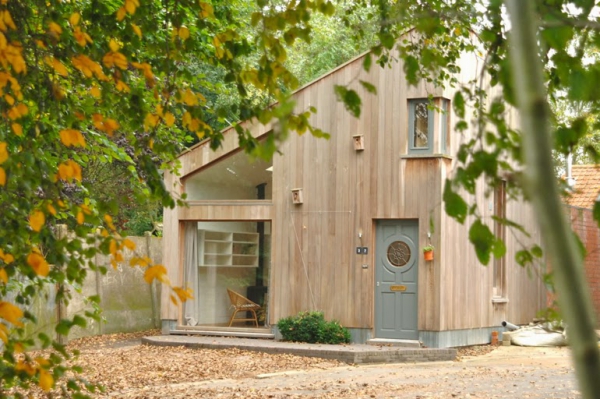 We are pretty sure that you and your family have made certain traditions around the holidays that have been set in stone over the years. Depending on what holiday it is, you are probably used to either hosting for dinner or making the long treks to the houses of various family members. Today, we encourage you to think outside of the box and switch things up with the idea of this holiday cottage! This family getaway spot is located in Stockholm, Sweden and was designed by a company called Fantastic Frank.
The very first thing that you will notice about this holiday cottage is that most of it is laden in plywood, which gives you the illusion that it's still in the process of being finished. However, that couldn't be farther from the truth! The exposed plywood theme gives way to tying in its elements into other parts of the house, such as the stairway and leading up to the upper rooms. The kitchen gives a nice contrast with its deep gray furnishings. We particularly love the color scheme chosen, as it mimics the natural colors of the world right outside its doors. Hints of green can be seen throughout most of the rooms, while the wood ceiling in the area leading to the upper rooms is painted in a way to represent the bright blue sky that continues outside the borders of this holiday cottage. This is certainly one feature that we've never seen before. How cleverly innovative!
This holiday cottage promotes open space with its high ceilings and more flexibility to maneuver around without clutter being a threat. Can you imagine how grand your fresh Christmas tree and gifts would look? A home like this is sure to make for the perfect holiday season with your family and with minimal work needed on your part.