Sometimes you run across those houses that seem too good to be true. You know the ones where your brain has a hard time processing that someone else's brain could come up with such magnificence? Well we are thankful for people who challenge our brains in that way because without it, we wouldn't be able to gawk upon marvels like the contemporary timber house that is featured today! This home, located in Chile near the Matanzas Bay, was exclusively designed by WMR Arquitectos, an architectural firm based in Chile. The concept of this home was the collaborative result of the firm and its client, who wanted to create a house that didn't necessarily function as a home but more like a hotel in theory.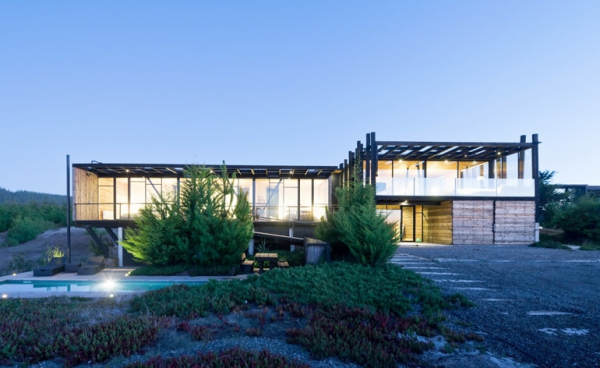 This contemporary timber house, given the name Casa Swift, includes rooms that have their own bathrooms on the middle floor, a long narrow pool and even a gym! This is the ultimate definition of a split-level home due to the distinctive split-levels to separate each floor that gives a different view for each. Taking advantage of the wealth of lumber available in the area, the house itself was made out different types of wood to give a more dimensional feel. We can't forget to mention that the home was also intentionally fashioned to reside in a windier part of Chile. The client just happens to be a couple where the husband wind surfs for a living. Coincidence? We think not!
With an exposed feeling within the main rooms of this contemporary timber house that allows the wind to rush through and a neutral and contemporary style to match, it's no wonder that Casa Swift is showcased as one of Chile's finest!