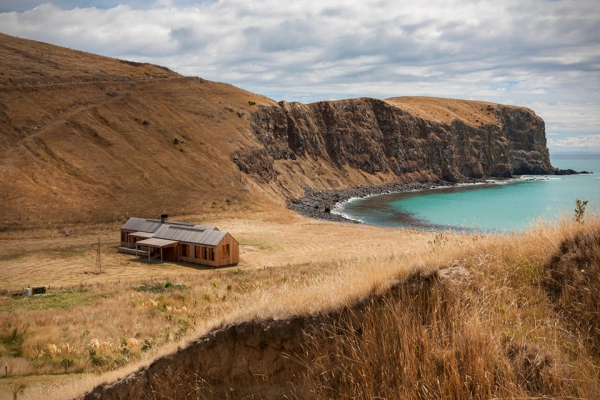 If you're ever looking for the most breathtaking landscapes of your dreams, you may want to consider a trip to New Zealand soon! With many movies being inspired to shoot there, we totally understand why! This contemporary farmhouse belongs to a lucky man by the name of Mark Palmer. He was in search of his own personal retreat and was moved to purchase 4,000 acres of land, as well as refurbish a nearby log cabin. The designer he chose was Patterson Associates, an architectural firm based in New Zealand that is known worldwide for their groundbreaking interior and urban designs.
Including three bedrooms, this restored contemporary farmhouse blends in with its environment, yet makes a statement that instantly boosts the land. Made mostly from wood, this home features narrow but elongated windows that allow for a more sophisticated approach. The decor is intentionally monochromatic which creates a crisp but radiant feel. In the living room, we are given a beautiful view of the deck and mountains. In the bathroom, you can enjoy a luxurious bath while gazing at the peninsula coast.
Take a hint from Palmer and create your own kind of island with this contemporary farmhouse as your guide!