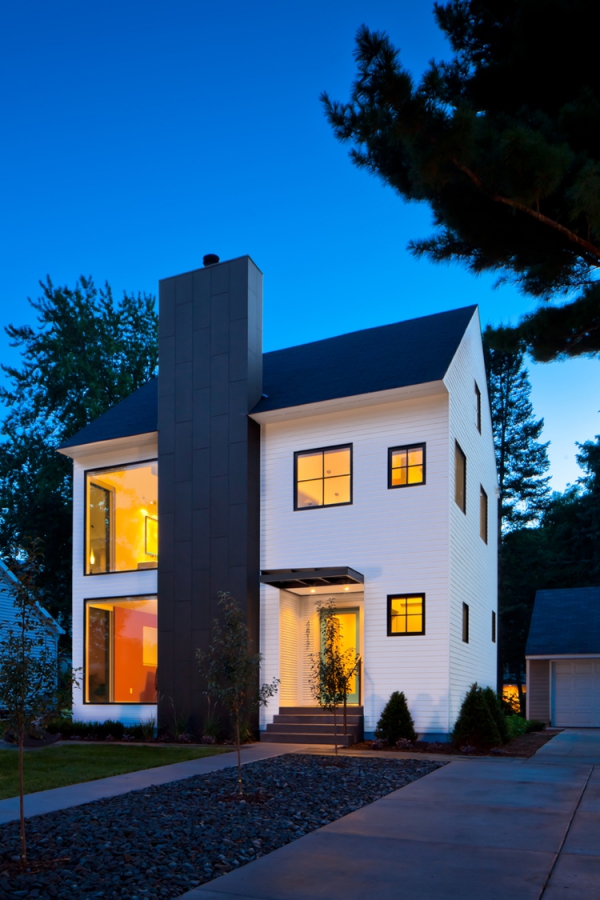 To start with, doesn't this modern house resemble a doll house? The white paneling, navy roof, big gray chimney, and big bright windows—yeah, someone had a dollhouse that looked like this growing up. Nostalgia aside, this lovely modern house is a perfect example of what contemporary interior design is and should look like. Architectural bureau Quartersawn in Minneapolis, Minnesota is responsible for this lovely modern house.
The lighter hard-wood floors are the perfect base for the whimsical whirlwind of colors and patterns that adorn each room of the home. Really, the majority of the home is in nice neutrals and soft grays (manifested in the furniture, walls, and structures), but it's the rich colors that make bring the interior full circle. The orange in the den is beautiful, while the reds and purples in the living area really make the room pop. The slight use of patterns and textures in rugs and other accenting pieces are the cherry on top.
The modern art pieces and contemporary lighting makes gives this home even more of a swanky look. While the natural light is clearly enough, we always love gratuitous lighting arrangements.
Тext is copyright to ©Adorable Home – interior design and decorating ideas