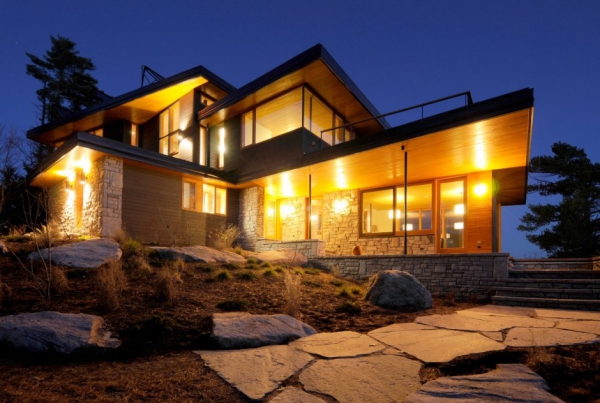 Nestled up above the Muskoka Lakes in Ontario, Canada, this beautiful cliff house overlooks the water and forested areas in total privacy and luxury. Designed by Altius Architecture, this home was built to both complement and enhance the scenery with the use of natural building elements. You'll see the wood and stone that has been used in just about every room of the home, creating the perfect nature destination.
The design of the home was not only meant to appease the eyes, it in fact is actually very energy efficient. The wonderfully abundant use of glass surrounding the home actually acts as an effective ventilation system, pushing out hot air and sucking in cool air. The stone walls, while beautiful, act as a thermal heater in the winter time. Talk about a rather smart house. As for the rest of the design (in decorative terms), everything is actually rather simple, which really, seems fitting.
While this cliff house is stunning in its exterior and interior design, it is also an excellent example of what can be accomplished in architecture and design, while maintaining lovely aesthetics. Looking at this gorgeous home you'd maybe not guess it is a sufficient and efficient energy saver.