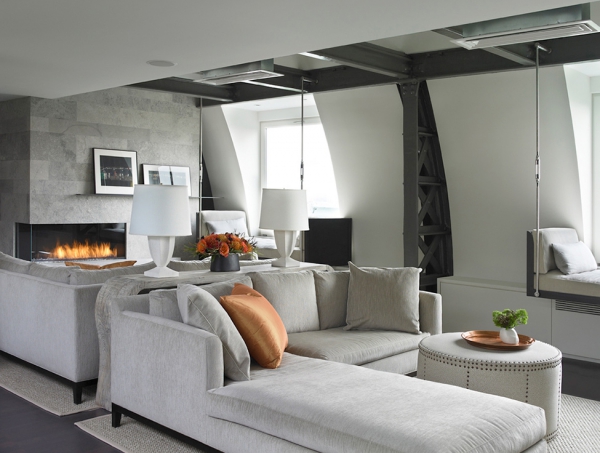 Do you view the color gray as being listless and boring? Do you have a hard time getting inspired by a color that seems so plain? You may want to change your opinion on gray when you see today's feature! Located in New York, United States and named Central Park West, this modern penthouse design is a custom style only known exclusively to its area. The fresh owners of this sophisticated loft were gifted with a home that was originally created through combining a single apartment, various stockrooms and other idle spaces.
The structural makeup vision of this modern penthouse design was birthed by The Foley Fiore Architecture Company located in Massachusetts. The firm met its complimentary partner right in New York through their collaboration with the Kathryn Scott Design Studio. Together, this duo was able to create amazing angles and lines through the décor while still maintaining the integrity of its neutral gray theme. Of course there was a little color thrown into the mix for extra measure in the most discreet of ways!
When you have designers that come together to create something as stunning as this modern penthouse design, you can't help but stand with your jaw dropped in the realization that the color gray really can be a lot of fun.