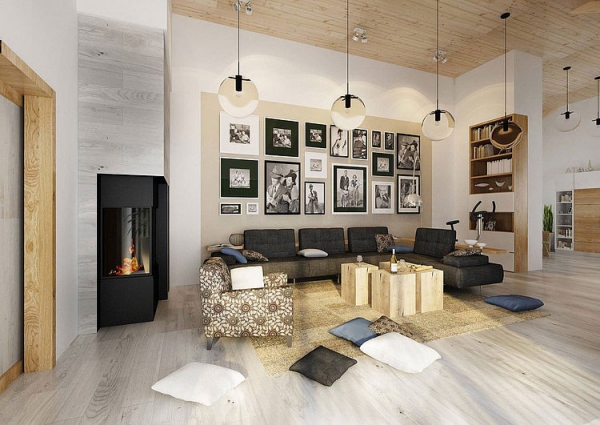 Rooted in profoundly modernist sensibilities, architects Atak Design (website in Czech) articulate a sinfully stylish residence with rural surroundings. This modern countryside house, located in Moravia in the Czech Republic, applies a progressive interpretation of 21th century design and spatial exploration to contemporary home interiors. Atak Design draws out functional spaces from an impressively chic spectrum of finish, fabric and furnishings, honoring thus the vernacular and the timeless in this modern countryside house.
The design anchors in a sophisticatedly controlled palette – the decor of this modern countryside house is dominated by oak wood which is readily available locally and therefore the material of choice. Instead of weighing down the place, the oak wood- given its finish and lightness- creates open spaces that silently dance in the ample natural light. From rafter to flooring, the oak creates a continuous thread that weaves every view and space into a seamless decor experience.
This is further accentuated by the furnishings which rest lightly in the space rather than assert their individual identities. The use of color is carefully controlled and pivoted around the primary design vocabulary. A rich fiesta of textures rises out of this muted palette to offer rich tactile experiences that give each space its distinct identity.
The backdrop, textures and colors are let loose in the bedrooms; the canvas here is inherently contained and allows for a more relaxed vibe in comparison to the cooler, quieter tones of the common areas.