Once again we are channeling summer thoughts as we take a stroll through this unique hotel in Mykonos, Greece. Former Creative Director of Design Hotels™ and design entrepreneur Michael Schickinger, together with interior designer and stylist Annabell Kutucu have come together to create a one of a kind coastal interior in San Giorgio Hotel. Taking advantage of the perfect weather the Greeks enjoy, the hotel boasts with light and airy interiors that have large open windows and spacious balconies. The designers say: "What you see and feel at San Giorgio are equal measures of history, heritage, style and simplicity. The crisp splendor of the white-washed building is just as one would expect and hope to find on this Cycladic isle."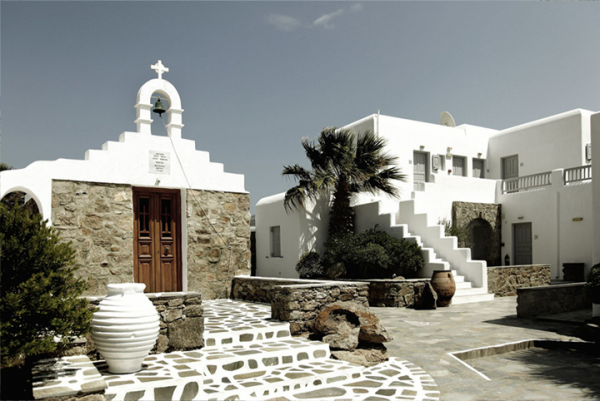 Native stone is used on the balcony and outdoor area. The designers took advantage of the beautiful Greek seaside scenery when they made the open-air pool and outdoor spaces. Paths that seem to be carved out of the rock lead you down to the seaside.
More Greek history and culture is seen in the Greek furniture used throughout the space, such as the traditional Greek woven top stools, Greek mosaic tile and woven baskets. This is all set against a crisp white background which allows the furniture to stand out and take the show. From the rustic wooden shutters and mirrors to the vases and hand-hewn benches throughout the space, all the furniture pieces seem to have a story to tell. A real intention is placed on hand-made and organic pieces. The only colors to be found are in the textiles of the rugs and pillows.
In this historic and organic environment luxury modern convenience is not lost. The kitchens are modern and clean with polished concrete counters, and the computer is duly noted in one picture.
Our only question is "How long can we stay?"