If ever there were question that Cambodia was not only a beautiful country, but one that had ample opportunity to offer vacationers luxury and comfort, let the Song Saa Private Island answer that for you. The resort, located on Cambodia's Koh Rong Archipelago, has only been open for about two years now, and it has already gained much recognition for its exclusiveness, style, and dare we say it again, beauty and luxury. The Cambodian resort focuses on being a place that harbors intimacy and harmony; with all of the natural elements and the exorbitance at every turn, this is one destination you must see in your lifetime.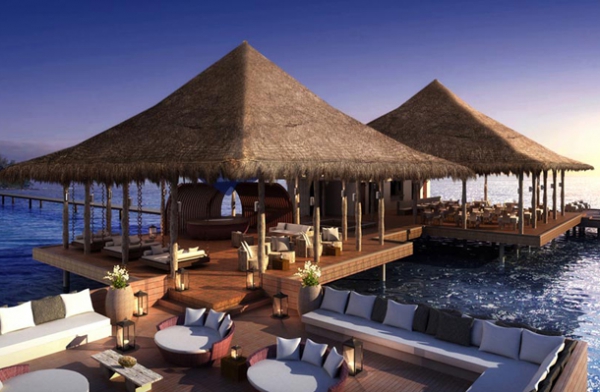 To start, this Cambodian resort was actually constructed with sustainable materials; that's right, luxury can be green. With 27 overwater, rainforest, and beach villas, a world-class restaurant, an infinity pool, a spa, a gorgeous sprawling over the water lounge, and endless opportunities for relaxation, this resort truly has it all. The amenities of the resort are all designed with perfection; using their sustainable materials and integrating them with a mix of modern design and Cambodian influence, the overall look is breathtaking.
The overall approach here really is very minimalistic; with an abundance of white, contrasts of black and accents of wicker, stone, and other textures, the interior of the villas is perfectly in conjunction with the look of the whole Cambodian resort. The use of rough, natural-cut wood and driftwood in the structure and in some cases furniture is both genius and an excellent example of their ingenuity in using sustainable materials.
This Cambodian resort is a true retreat for anyone looking for the dream getaway. The only problem is, we're pretty sure once you get there, you'll never want to leave!