This tropical resort is located in Praia do Forte in Brazil. Created by Jacobsen Arquitetura and Bernardes Arquitetura, the Tivoli Ecoresidences Praia do Forte, has three restaurants, four bars, eight pools, four tennis courts, an amphitheater, a spa, a beauty salon, and three saunas.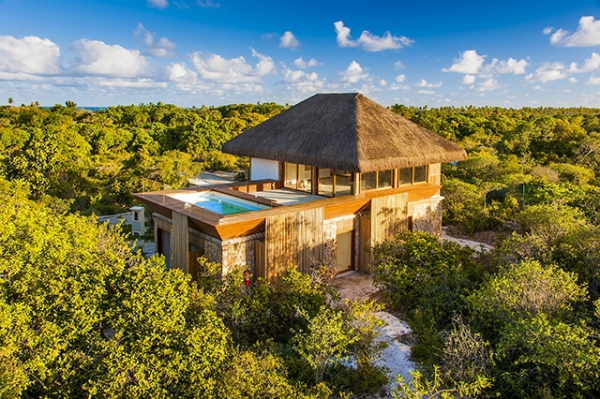 Forty two beautiful homes make up this tropical resort. The exteriors have stone at the bottom and wooden slats at the top. The roof is thatched, highlighting and accentuating the resort's tropical location. Tall trees surround the homes, fashioning a picturesque and enticing scene. We love the combination of the greens, browns, and blues.
The roof of the first floor contains a pool and an outdoor lounging area. The wooden floors are positively stunning and the patio furniture is sleek and stylish. Glass railing encircles the outdoor area, providing a protective barrier, while maintaining the gorgeous aesthetic of the vacation home.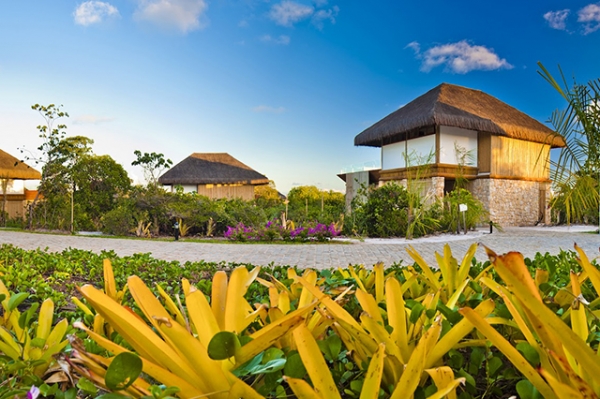 The landscaping in this tropical resort was created by Fernando Chacel. Stunning flowers, plants, and trees, fill the entire space, adding a delightful dose of color and beauty. The individual homes are perfectly spaced, providing enough room for privacy, but not enough to feel disconnected from the rest of the resort.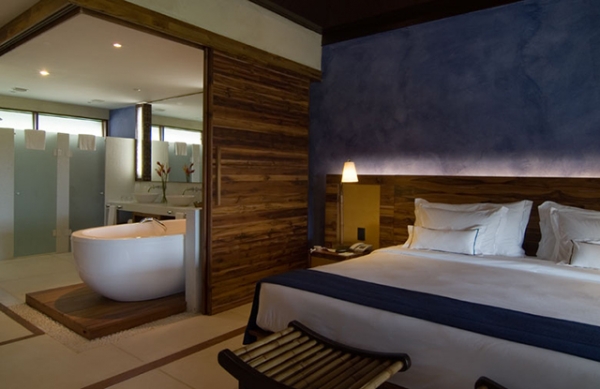 The interiors are luxurious and inviting. In this one, there is a large comfy bed and fabulous wooden accents. The blues used in this room connect to the surrounding water, and add a little intrigue to the interior design. We adore the wooden sliding door, not only is it beautiful, but it promotes and connects to the ease of the tropical environment. The bathroom is spacious and elegant, with its large soaking tub and outstanding design.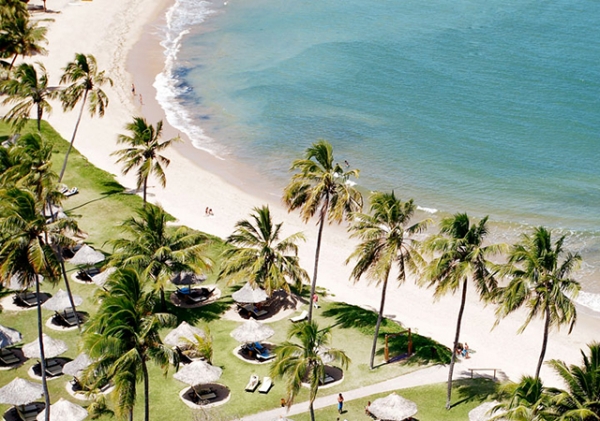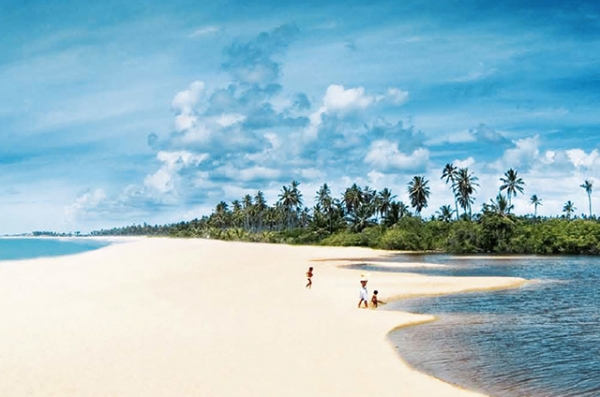 The outdoor areas are perfectly done with individual relaxing spaces and fantastic palm trees, and the beach is breathtaking with its magnificent sand and brilliant blue water.