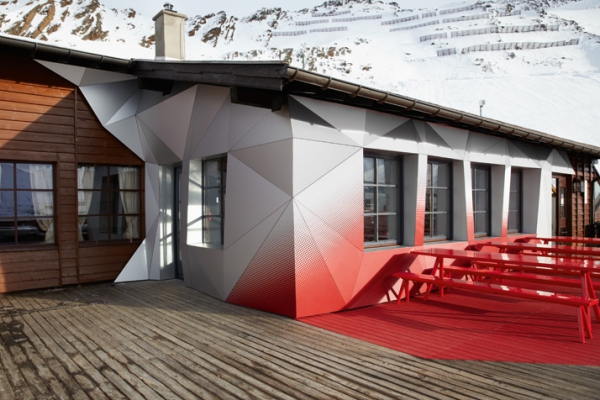 Summer may have officially started, but that doesn't mean we can't mentally escape to winter wonderland for just a moment! Taking a trip to the Austrian Alps, we are given a front row seat of the new and improved resort that updates this customary ski getaway in an ultra-modern way. Audi AG has teamed up with The Obergl-Hochgurgl Ski-Lift Company to bring us a breath-taking alpine design. Designers Sasa Stanojcic and Andreas Dohring have created an interior design company called Designliga, which all the credit is due for the revolutionary style introduced to us.
Known as The Quattro Festkogl Alm, this resort is fairly new with its grand opening happening only six months ago. What makes this alpine design so innovating is that the resources used to craft it were originally intended for Audi's amazing vehicles. The addition of this futuristic aluminum design really revs up the style of this resort! These elements fuse quite seamlessly with the traditional wood base work, cleverly preserving that which represents the former alpine design of The Festkogl Alm. To finish it all off, the Audi-inspired design adds a striking contrast against the snowy landscapes with the daring color of red. With just the right amount of gradient effects on the exterior, a statement is always made from afar.
Although this collaboration was meant to also advertise Audi's innovative car features and the new technology to accompany it, this alpine design still gives quite a refreshing feel to the resort, resulting in a ski paradise that will always remain relevant.
Photos: Designliga and Audi AG.