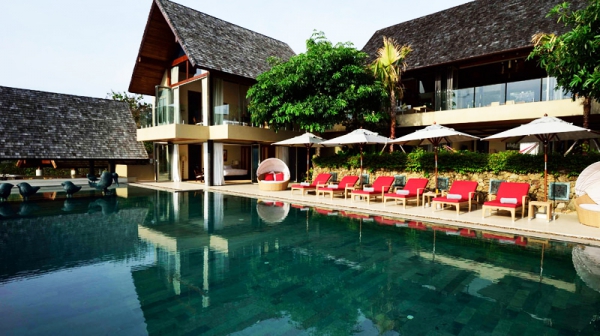 Just look at this – total exclusiveness, dreamy scenery, and absolute serenity make up this beautiful and exotic retreat called The Panacea Retreat. Tucked away amongst Southeastern Asian hills, the retreat is actually made up of five separate residences, offering complete privacy and luxury for guests. And let's not forget the striking interior that makes up these five residences.
What really stands out in all of the interior design is the natural elements added to each room. While the design over all is very modern and chic, each room either has a lovely touch of wicker, wood, marble, or stone. Even the touch of brown hues in the palette in each room gives a feeling of natural warmth and comfort.
Focus on the colors, the color scheme here is perfect and effortlessly luxurious. Reds, blues, grays, white and black are seen throughout the rest of this exotic retreat. These all go perfectly with the woods, wicker and other natural elements, but also contrast with the brown wonderfully. And when you think about it, really, all of these colors can be found in nature, which is just a rather nice coincidence, or excellent planning.
So while you may not be able to take yourself away on this exotic retreat, you can still create the beautiful and serene look seen here rather easily.