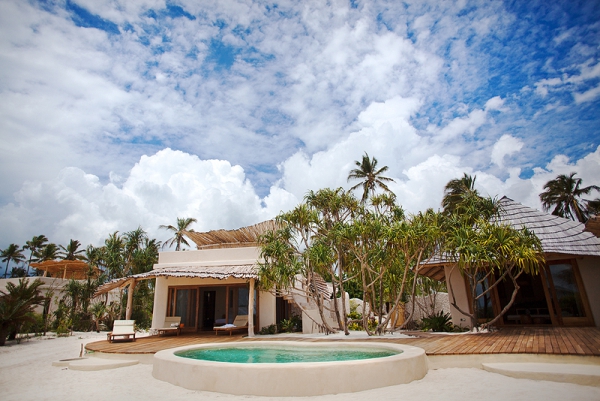 Nestled away on the turquoise beaches of Paje in Tanzania, is the Zanzibar White Sand Luxury Villas and Spa stands. Perfectly positioned on the beachfront, the villas offer ultimate comfort, serenity, and adventure if you're looking for it. Designed by Neil Rocher, Zanzibar proves to be a definitive destination for vacation and design alike.
Obviously, the beach and surrounding scenery are reason enough to visit a place like this, but let's not forget the striking interior design of these luxury villas. With a rich combination of African and Arabic cultures in the design, there's a beautiful balance of indigenous and modern sophistication.
The abundance of brown in each luxury villa is very warm and welcoming. It speaks of the nature that surrounds the villas and provides an effortless, tranquil ambiance. The contrasting cream colors brighten each room just enough. We love the simple wood and marble throughout each villa. It adds just the right amount of dimension to the interior design, while adding a touch of elegance.
Whether it's outside on the beach, relaxing in one of the spas or pools, or lounging in one of the villas, this is one ideal place to be. You too can create the look of these villas, quite simply too. Take a leaf from the indigenous inspirations seen in the interior here.