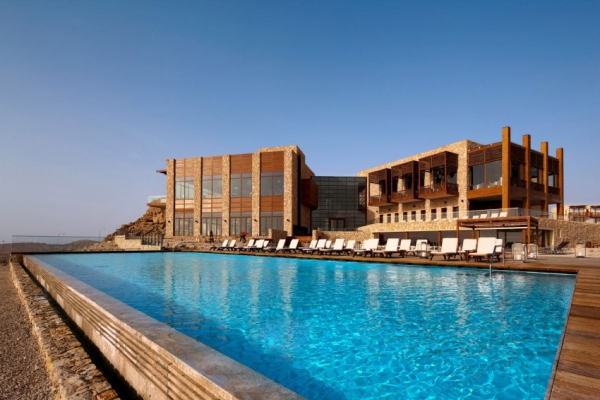 The infinite terrain, deep silence and subtle melange of the Israeli desert are translated into a luxurious getaway in the Beresheet Hotel – the newest addition to the Isrotel chain of hotels. Designed by architect Yehuda Feigin and sons, with interiors crafted by ARA Design, this desert hotel is located 800 meters above sea level, perched precariously at the edge of Makhtesh Ramon – a natural geological formation unique to the area. Crystallizing the romance and inspiration of the spectacular landscapes that surround it into a tangible experience, the hotel offers 111 luxuriously appointed private suites.
The spaces and suites of this desert hotel are crafted in local materials and borrow generously from its physical and cultural context – through color, design and motif. Rendered in an earthy palette, the interiors are a testament to the many shades and hues of the desert. From natural neutrals to warm ochre to rich browns, the color palette is stylishly channeled into a variety of elements, invigorated by an organic overtone that anchors in the vernacular. Pleasant whites help hold the aesthetic scheme together, keeping it welcome and warm at all times and in all frames.
This desert hotel is equipped to keep you comfortable and entertained during your stay here and offers a health club and spa, fitness center, tennis courts as well as a waterfall pool. Adhering to a spirit of serenity, it prohibits the use of cars but provides electric vehicles to navigate the property and surroundings.