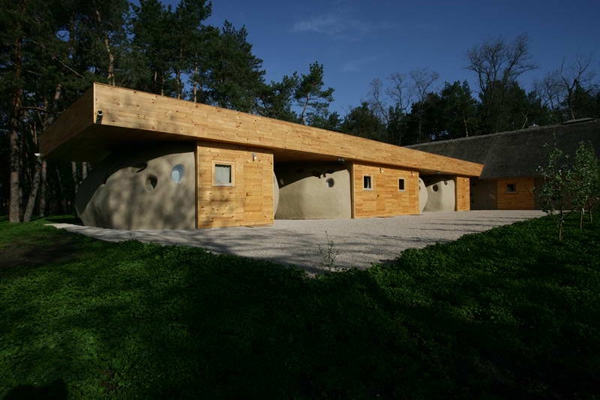 This Eco Hotel is a bit of a mystery, you will not find a fancy website for it, nor can you book a room. As Eco hotels go – this is a wonderful example of fantastic design, attention to detail and how natural materials can be used to create a building that is beautiful and strong.
Studio Ryntovt Design is responsible for this stunning hotel and most of the furniture and lighting inside also. The Eco hotel has a serene and peaceful feeling to it that makes it the ideal place to escape from our busy lives. The whole hotel complex has been made from natural materials including clay, wood and cane which give a minimalistic and clean effect but still retains warmth.
Each room of this hotel is beautiful and well thought out. From the airy dining areas to the strange shaped but cozy bedrooms. Small windows are found everywhere keeping heat inside but letting light in, they also look very attractive and certainly form a great design feature in the neutrally colored interior. From outside the hotel has a pleasing look, with small pods being the sleeping areas and large open plan parts of the building becoming communal spaces.