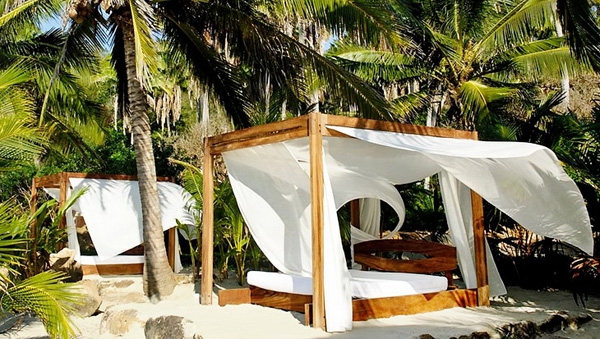 This beautiful and isolated resort is a hidden gem you can find tucked away in the lush surroundings of the Riviera Nyarit on Mexico's Gold coast. This Mexican resort ebbs and flows with the sweeping landscape of the coast, and provides impeccably beautiful views for any and every guest to enjoy from any corner of the resort. This resort, known as the Imanta Punta de Mita, is sure to provide an unbelievably relaxing and unforgettable retreat for all guests who are lucky enough to spend time here. A fun fact about the name of the resort, it actually means "magnetic attraction" in Spanish. They say that 'Imanta' is the feeling that comes over you when you fall in love, whether it's with a person or a place. Doesn't that sound magnificent?
We love that the architecture of this Mexican resort has been greatly inspired by the region and the locale that surrounds it. It really allows for you to feel like you are in fact in a beautiful and secluded haven on the Mexican coast. Much of the resort is very open and airy, making way for you to flow wherever you want to. The use of stone and wood in every structure is so simple but still maintains a sense of luxury.
We also appreciate the décor design staying in theme with the overall look of the architecture and the surroundings of the Mexican resort. Simple whites, neutrals and beautifully rich magentas comprise the décor, creating a style that is effortlessly chic and tranquil in appearance.
We don't know about you, but we'll dream of the day we can sit back and relax in one of the villas that overlooks the beautiful ocean here. This Mexican resort has everything you'd need for the perfect getaway.