This absolutely gorgeous, wooden furniture, would be a head turner in any household. The creative and innovative wood casting is by Hilla Shamia. She uses tree trunks and melted aluminum for these wonderful creations. The wood, burnt by the aluminum,  provides an alluring contrast to the lighter wood and the silver in this contemporary furniture. The hot aluminum is poured into the wood, melding to its shape, filling all the cracks and crevices. It is left there to cool, giving the furniture a fantastic look. The textures of the wood retain their natural curves and dips, giving the furniture an earthy feel, while the aluminum adds an industrial element. These juxtaposing materials allow this contemporary furniture to fit comfortably into almost any home; adding flair to any environment.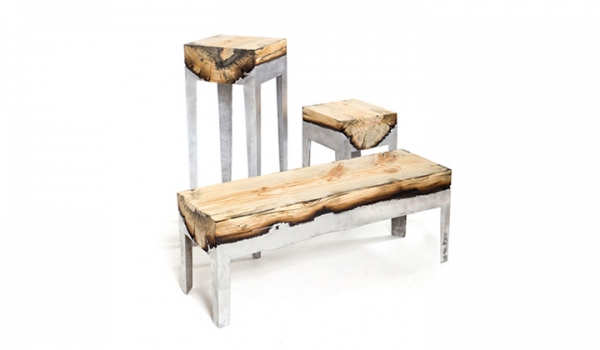 The bench is perfect for sitting in a foyer. Add a stylish hanging coat rack and a large  floor vase full of decorative or fresh flowers, and the entrance way is ready to accept visitors. The smaller bench is a great addition to any living room. It would be absolutely gorgeous in front of any colored sofa.
The tall table can be used in a lot of different ways. It can be used as a decorative table or a place to sit a simple decorative item. The lengthy legs of the taller pieces are delicate and easy on the eyes, coming to almost a singular point at the bottom.
Another fantastic way to use this contemporary furniture, is to have three beautiful pieces of different heights up against a simple and bright white wall. Each piece with a simple decoration sitting on it, pulling in the colors of the home decor. Regardless of use  this wooden furniture, is one of a kind, creative, and a great addition to any home.