Every so often we come across designs that spark the inner child while appealing to mature aesthetic sensibilities as well – here is one. Alvaro Goula and Pablo Figuera transform childhood fantasies into the exceptionally handy and smart 'Orwell'. This universal furniture piece takes deep heartfelt memories of quilt castles and make-shift fortresses, and translates them into a unit for relaxation and recuperation.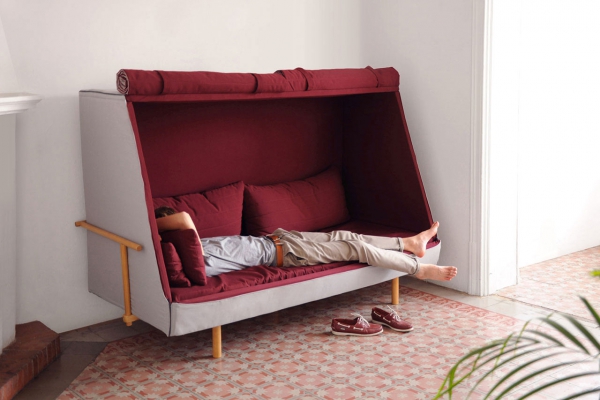 Designed as a versatile sleeping cabin cum sofa, this universal furniture piece has been designed to offer you a private moment in larger spaces. Perfect for catching a quick snooze on a busy afternoon or curling up in with your favorite book, the Orwell comes with a multitude of avatars to it. The multi-person seating unit can be used as a conventional sofa or unfurled into a more private personal unit. The quilted curtains roll down to offer a semi-private or completely private resting space; the quilting ensures adequate and comfortable sound proofing while keeping the light out too.
This universal furniture piece finds application in a variety of settings around the home and office. Its cozy design is articulated in a clean, uncluttered profile that gives it a modern, almost Scandinavian like appeal and lets it adapt to any space and decor effortlessly.