Inspired by Italian architectural renderings, the Tusciao valet stand merges contemporary design sensibilities with time-tested geometries and visual landscapes. Designer Andrea Brugnera reinterprets the classic bedroom coat rack to find it a place amid modern decor and lifestyle needs. Available from online retailer Formabilio, this light and sleek product is smart in its aesthetics and conception.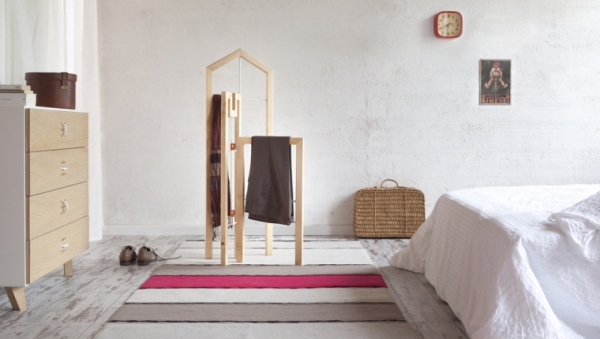 Composed of three individual elements – each with own unique profile and size – the Tusciao accommodates all your clothing and accessories gracefully and with ease. Built of solid beech wood with an eco-friendly, natural oil finish, this valet stand is available in two colors – White and Bordeaux. Leather strap joints with snap buttons and metal rods adjust the elements to suit individual requirements, further enhancing this product's versatility.
The Tusciao valet stand offers a tall coat hanger 42 cms wide and 125 cms high, a multipurpose middle element 30 cms wide and 98 cms high, and a smaller trouser rack 39 cms wide and 73 cms high.
Styled to encapsulate a touch of old world charm in contemporary materials and proportions, this innovative design brings a touch of Italian flair to your bedroom. Its delicate profile embodies a solid solution to the simplest of storage needs, making this design a definite winner.