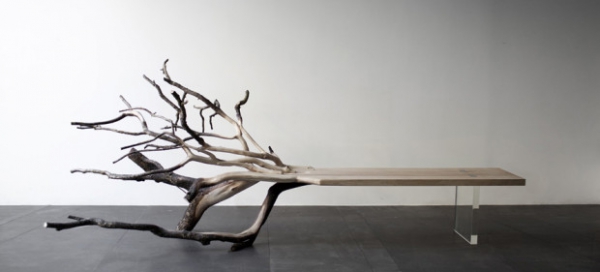 This beautiful tree bench is a work of art and needs no lengthy description. Designed and carved by Benjamin Graindorge the tree bench shows the beauty of natural oak and how stripping back the bark can show the interior structures of the tree the bench was carved from. The whole bench is made from only 2 materials, an oak tree and a single piece of borosilicate glass that is used as a leg. The beauty of the tree bench is in the way the grain and shape of the wood has been followed and exposed for everyone to see.
As a finished piece of art the bench measures 273 centimetres by 100 centimetres and 120 centimetres in height making it perfect for almost any space but you will have to be quick to buy it as there are only limited copies available, which are all signed and numbered. One thing is for certain – Benjamin Graindorge has the ability to create exceptional sculptural furniture from natural materials that should be admired and appreciated for many years to come.
This tree bench would be an amazing piece of furniture to display in your home or office and I'm sure you will agree that it deserves special recognition from the art and design world.