Innovation is the name of the game when it comes to multifunctional furniture; the more true to origin the configurations are, the more appealing the design and the possibilities it presents. It is probably why this transformable table won the Best of Show Editor's Choice Award at the BKLYN Designs exhibition. Designed by Ecosystems, the BADA Table flips into a quaint loveseat, flipping your space and world with it.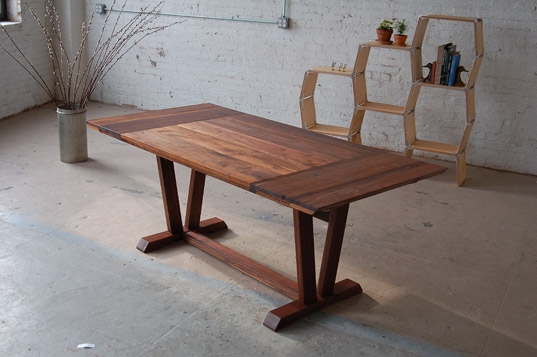 Restrained in its design and composition, the BADA table avoids superfluous detailing to garner appeal, instead relying on core design sensibilities to win you over. The sturdy dining table gives little away, letting you enjoy and appreciate its individuality without being distracted by the versatility it embodies. But a flick of the wrist and a credit card is all it takes to reveal the cozy cork-padded love seat; just slide the credit card into the thin slot alongside the table to undo its locking mechanism, and unravel new configurations and activities.
Keeping with the ecological consciousness of its manufacturer, the transformable table is constructed with reclaimed wood from shipping pallets or post-consumer reclaimed teak, finished in clear, low VOC natural oils.