Exocet is so much more than a seating alternative – this ridiculously versatile chair effortlessly changes shape to create fresh possibilities in aesthetics and comfort. One of the first products from design studio Designarium, the transformable chair is the brain child of Montreal based designer Stéphane Leathead. The product was unveiled at the recently held Toronto Interior Design Show 2015.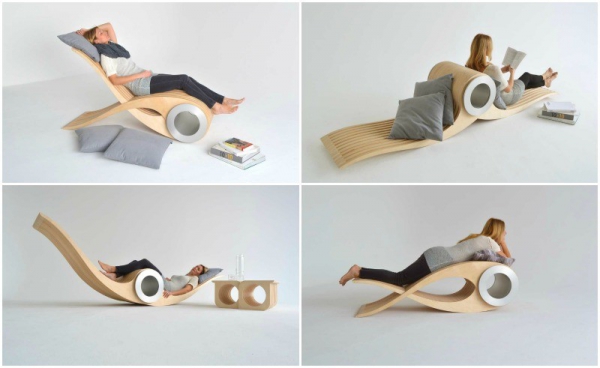 Carefully designed to meet the plethora of ergonomic and functional demands a chair is met with, the Exocet combines sound functionality with contemporary sensibilities. The transformable chair is constructed out of identical wooden slats arranged on a rotating cylinder; the latter acts as a pivot on which the slats rotate back and forth to create a range of configurations. From upright seating to laid back unwinding, the Exocet offers it all. Its clever design offers comfortable posture and maximum support in every position, making for a truly hassle and pain free piece of furniture.
Thrilling in its potential, the Exocet offers us a multitude of ways to experience a space, changing form with our shifting moods and activities. A fantastic accessory for modern life, this product is just as adaptive as it is inspiring. This elegant design is currently patent pending.