Moved by the grace, lines and anatomy of a pelican bird, this wall organizer offers a neat and compact solution to your arbitrary storage needs. Designed by Daniel Garcia and Maria Vargas of Spanish design house Woodendot, the Pelican Wall Organizer is crafted with the simple efficiency and functional focus that marks nature's genius.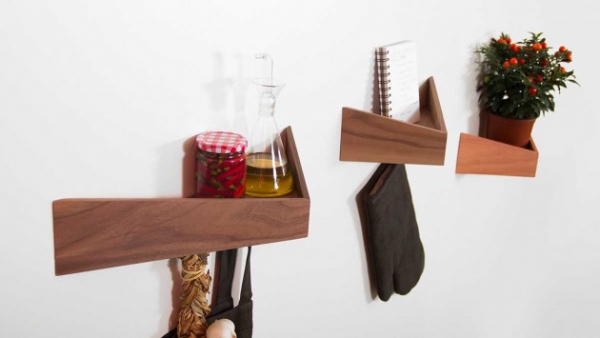 This handmade solution is crafted in wood with a metal sheet hanger to suspend it off walls and vertical surfaces. Translating a pelican beak into a purposeful decor element, it incorporates a triangular shelf space and conceals two hooks for hanging in its undercarriage. The triangular profile and minimal design of the this product gives it a sophisticated visual presence while easily adapting and fitting it into your decor – no matter what your style or how tight your space.
Finding application in a wide array of spaces and circumstances, the Pelican Wall Organizer is available in four finishes – walnut, nude, sky blue and snow white – and is built in two widths. Both sizes are 100 mm deep and project 150mm off the wall surface; the smaller of the models 320 mm wide while the medium sized model is 440 mm wide.
Available for purchase on the Woodendot website, these crafty wall organizers are a simple and effective way to de-clutter and spruce up your space.