If you like to shift things around every now and then, the Hexa Table is the table of choice for you. This adjustable table from Resource Furniture – a nerve center for space saving and versatile furniture solutions – uses a palette of reversible laminated surfaces that slide and fold to create a striking plethora of spatial configurations. Designer Bernard Vuarnesson explores color and composition to create a product that is remarkably personal without losing its universal appeal.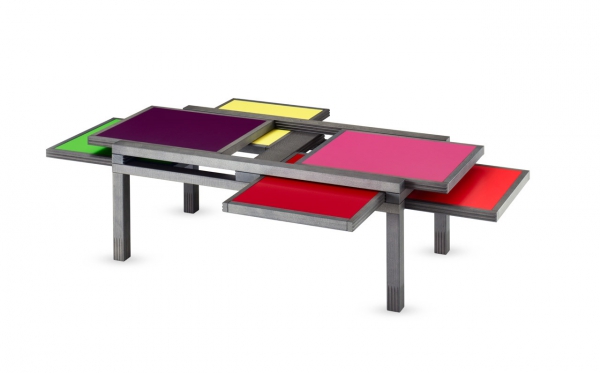 Like a puzzle, the Hexa comes apart and together to create an array of permutations that let it adapt to the space, function and aesthetic demands at hand. Made from solid wood, this adjustable table has six laminated surfaces that can be customized in color and finish to create the perfect accessory for your home or office. The surfaces have a recessed profile on the underside and can therefore be flipped to form drawers or handy open trays. What results is a fascinating interplay of color, plane and use that draws forth your creative instincts.
The Hexa is therefore full of potential and playful variation, looking just as good in serene, formal settings as it does in the children's bedroom. The designer's take it a step further by offering this adjustable table in five different coffee table templates and two dining table templates that vary in dimensions and possibilities.