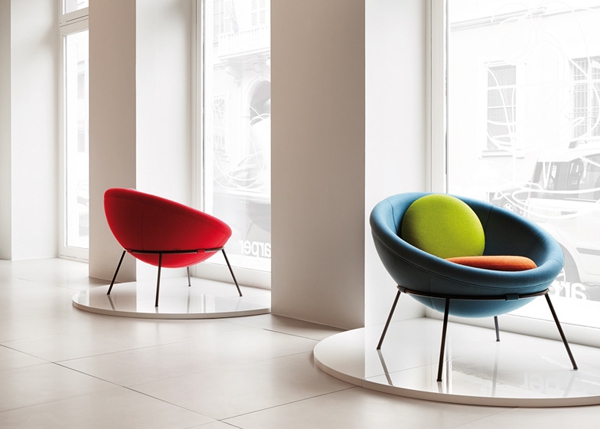 This Arper branded bowl chair is designed to please the both eyes and the body. The modernist architect Lina Bo Bardi designed the first version of the chair in 1951 and the Arper models are crafted as improved versions of the original.
The bowl chair is designed to cradle your body with smooth circular curves and a bowl-shaped seating that is designed to embrace your body as you sit or lounge. The actual seating section of the chair is upholstered to provide comfort with a padded leather frame. A metal base provides the chair with ample support. The bowl itself sits on a supporting metal frame comprising four feet all leaning slightly inward as they approach and merge with a metal circle on which the chair's seat is placed.
The bright colors are ideal for bringing vivacity into the décor plan for any room. Colors are available to suit different genders. The black versions bring maturity and class to a room while the pink and yellow ones add excitement and create a mood of festivity. Removable cushions enhance the level of comfort experienced as you sit in the chair. Their bright colors also contribute to the beauty of the chair.
The Italian designers have produced an eclectic fashion gem with this bowl chair.  It is amazing to think that such a beautifully modernistic and futuristic design piece has its roots in the distant past. If your design plan includes being bold, fashionable and unique, then the bowl chair is most definitely for you.
Text is copyright to ©Adorable Home – interior design and decorating ideas