Locally reclaimed materials are transformed into a creative and safe habitat for birds in this novel innovation by British design-house Jam Furniture. Inspired by the humble milk carton and Jam Furniture's penchant for minimalist designs in reclaimed timber, these sustainable birdhouses bring together a series of smart and snazzy upcycles within a lighthearted profile.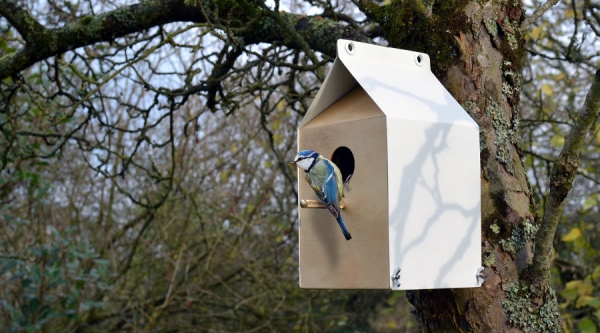 Designed and built to adhere to RSPB guidelines, the project rises out of ply off-cuts collected from local businesses, and recycled steel panels from discarded washing machines and dishwashers. The wood is crafted into the primary enclosure while the steel is trimmed and bent into shape to form an outer skin; to help the steel withstand harsh climate it is coated with a tough satin-white paint. Hand machined solid brass perches, with a knurled finish for added grip, add the final touch. What results are clean, crisp and sustainable birdhouses which offer a safe haven without frills or frightening costs.
A recessed screw keyhole on the back allows for easy installation; alternatively it can be just as simply hung from a branch using the two eyelets in the roof crest. These sustainable birdhouses can be opened up by removing the 4 wing nuts, allowing for easy cleaning and maintenance. They are available with 4 opening sizes that cater to a wide variety of species.