Gorgeously tactile felt is crafted in vibrant, contemporary colors to create a handy, innovative and utterly cute storage solution. The Imperativo felt containers from Formabilio is a nifty design that fits perfectly into the modern home and office, adapting effortlessly to its myriad demands. Designed by Giuliano Valeri, these storage boxes are sustainable, green solutions that come flat packed to your doorstep.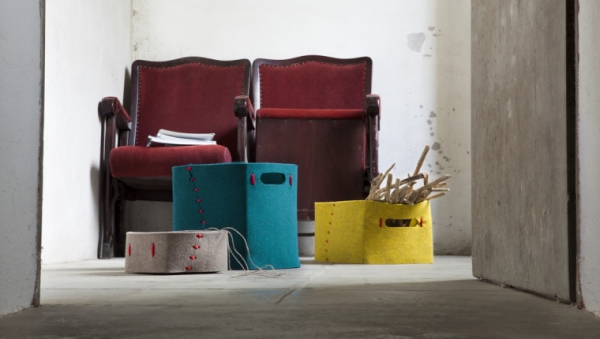 These felt containers come in three smart sizes. The smallest of these is a compact square option of 22 x 22 cms, 10 cms deep and is ideal for storing knick-knacks and stationery, offering a great way to organize that shelf that refuses to be tamed. The larger models are 25 x 33 cms, 30 cm deep and 42 x 25 cms, 21 cms deep and are great as magazine racks and perfect for clearing up clutter.
Unlike regular options, these good looking felt containers do not need to be hidden away and can be weaved into your decor, complementing and accentuating it beautifully. The three colors – dark beige, ocean blue and zinc yellow – are sure to find place in your interiors without much hassle. Their organic feel – crafted in natural upholstery (90% wool) and finished in recycled ecological cotton and metal ends- adds a soft lusciousness to the design giving it its distinct appeal.
The Imperativo requires a simple assembly; weave the string through provided holes to transform this product from its tight packaging to a generous and impressive storage solution.