Barcelona based industrial designer Curro Claret makes a pertinent social statement with these shoelaces lamps. Part of the Shoelaces collection – a range of products born out of a rehabilitation initiative – these lamps are produced in collaboration with decorative lighting house Metalarte.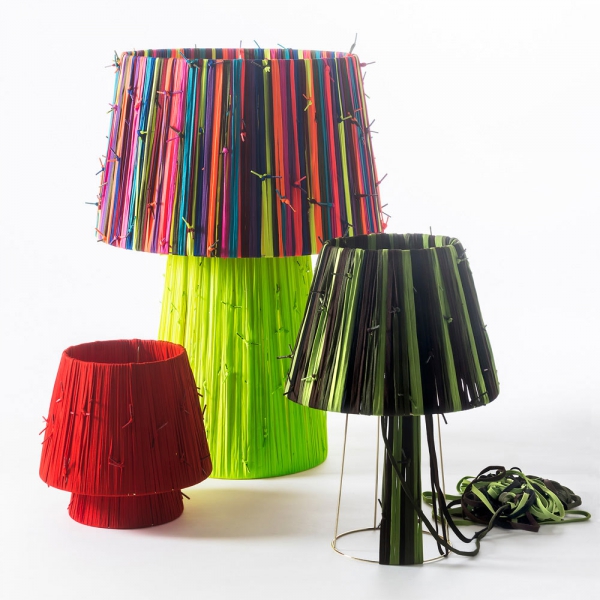 These shoelaces lamps offer a second chance, an opportunity for revival and creative redefinition to both – its materials and the hands that craft them. Working with individuals who have suffered a rough past and are attempting to get back on their own feet, Claret creates these multicolored delights with reclaimed shoe laces from Camper shoe stores. The lampshades follow Claret's earlier project to redesign a Camper store in Barcelona, resulting in a unique reclaimed shoelace curtain.
In a poetic and simple move, the shoelaces are tied side by side around open metal frames of various sizes and profiles to create an interesting range of lighting fixtures. The tapestry of shoelaces creates an interesting texture of light and fabric that along with the vivid colors gives this range its distinct aesthetic. The knots where they are tied together add visual sparks that lend a playful unpredictability to the design.
A social and aesthetic venture, these shoelaces lamps weave metaphors at many levels with the simplest of materials. Their impact thus lies not just in the light and visuals they offer, but in the ideas they project.