Frankfurt based product designer Meike Langer brings us her rendition of the sofa bed, reinventing it in minimalist tones to answer the needs of the contemporary lifestyle and fancies. Exuding an inimitable simplicity, this design strips away any complex overlays or expectations to reveal the bare elements that make for comfortable sitting and sleeping. The seat cum extending bed focuses on the seamlessness of its translation and the harmony of its detail. Nicknamed the 'Pause', this design introduces a moment of serenity and humility into the space.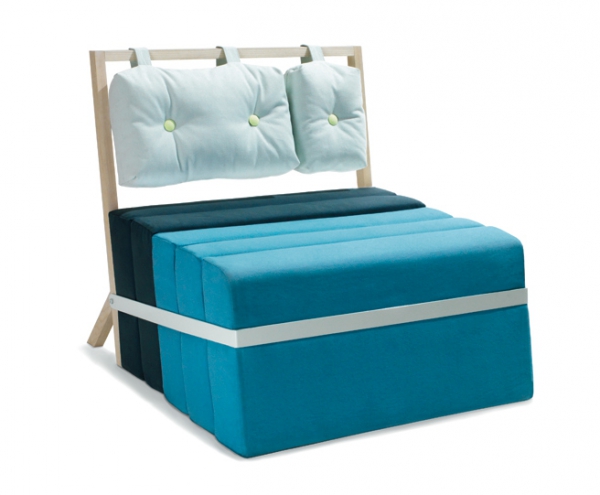 This version of the sofa bed uses the mattress itself to articulate the form and volumes of this design. The foldable mattress packs neatly into a light, wooden frame to offer a comfortable seat that is accompanied by wonderfully plush big cushions; the latter is suspended off the back frame to offer a comfy headrest without much weight or hassle. The mattress comes undone to reveal an extending bed, with the cushions forming a fitting headrest. The folds allow for partial reconfigurations, the mattress unfolding to suit your requirements and spatial demands – perfect to stretch your legs out after a long day or lounge on a lazy afternoon.
Ideal for those who dwell in the beauty of the minimalist, this sofa bed brings a unique style and functional clarity to your day and space.