When eating with the family, dining rooms are usually set on one reliable look. The only things that may change are the placemats and table runners. So it's a given that a traditional wood table is a sturdy focal point in the dining rooms of most families. But what if you aren't the kind of person who likes going by the books? If you'd rather be inspired by some vibrant variety while setting the table, then today's feature is definitely for you! This double-facing dining table by Luca Binaglia will certainly brighten up things at dinner time.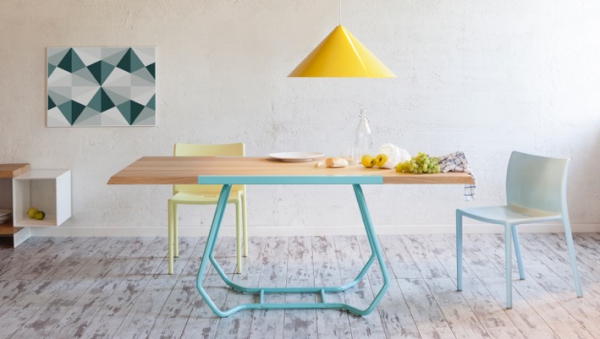 This double-facing dining table, called Duale, is the brainchild of designer Luca Binaglia. This table is perfect for the person who wants the best of both worlds. Thanks to its multiple options of colorful veneered tops, you can make the table feel just as lively as you do. If you're more into a simple conventional look that has a little pop of contemporary, you can always switch it back to its natural oak veneered side. Along with its dual wood and metal features, its unique geometric legs also give this table even more character that allows it to have room for eight people with no problem.
Whether you already have contemporary theme going on or are looking to just spruce up your existing room in general, this double-facing dining table will enhance the overall look of your dining room in a bold way!